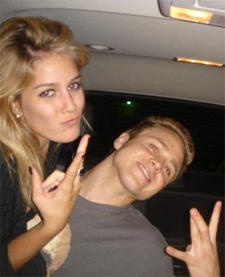 Spencer Pratt.
You either love him or hate him.
Check that. There's no way you love this guy, and if you're like us here at the Scoop, you can barely tolerate him during an episode of The Hills. But nevertheless, we're intrigued by this emerging reality TV star and decided to do some research and learn a little more about him.
After all, having Olympic decathlon gold medalist Bruce Jenner as his dad and music powerhouse David Foster as his stepfather, the amazing Brody Jenner has dubiously anointed Spencer Pratt as his "manager."
So who the hell is Spencer Pratt? Here's what we know...
-- Similar to the likes of Paris Hilton, the dude is famous strictly by association, yet seems to parlayed that into a rather lucrative career... or at least one that's headed that way.
-- He was first featured in the reality show The Princes of Malibu, which followed the Jenner kids (Brody and his brother, Brandon Jenner) as well as their tag-along buddy, Spencer, as they do nothing all day except occasionally bother David Foster and his superstar clients.
-- He's now on the Laguna Beach spin-off series, The Hills, having weaseled onto the show and into our homes every Monday night by getting into the pants of one of its leading ladies, Heidi Montag. She's hot... even before the fake boobs.
-- Spencer has reportedly been negged from every hot club in Greater L.A., except Area, where girlfriend Heidi pulls stings to get him in. Heidi Montag works (as Hills fans may recall) for Brent Bolthouse, who's the promoter of the venue.
-- Spencer Pratt's father is a famous L.A. dentist. Hey, those guys make a hell of a lot of money.
-- He has a cameo in Kevin Federline's new video. However, we aren't sure which video it is. If you know, please leave us a comment so that we may find the clip on YouTube and post it for all to ridicule enjoy.
-- Spencer's quote-unquote management company, Innovator Management, has about four clients, though it's tough to tell as most of Pratt's "companies" have MySpace pages without any other Web presence.
-- The clients of this "company" are, shockingly, Brody Jenner, Heidi Montag (who is recording an album soon under Spencer's guidance - should be a dandy), David Foster and The Princes of Malibu DVD.
-- Spencer is Vice President of Archangel L.A., a company which appears to make silver jewelry that retails at two stores in Los Angeles. The goods are not yet available for purchase (or look at) online.
-- The reality TV star also has his (slimy) hands in the music biz, working for 143 Records (David Foster's label for Atlantic), and the nebulous Precise Music Group, which has one artist, YaBoy, a rapper on the L.A. underground scene.
-- Spencer Pratt and Brody Jenner are both "VPs of 310 Creative," a company that animates Web graphics and designs celebrity websites. Among the "clients" are Nicole Richie, David Foster, Ya Boy, and Korn.
Matt Richenthal is the Editor in Chief of TV Fanatic. Follow him on Twitter and on Google+.