Before The Apprentice can return next season - as creator Mark Burnett promises it will - the show had to name a winner for this year's edition in Los Angeles. On the season finale recap!
The show aired live from the Hollywood Bowl. And, of course, Donald Trump entered to fireworks, along with a cheering crowd. After a recap of the season to date, Trump called out the four remaining candidates: Frank, James, Nicole, and Stefani.
The commercials that the candidates created for Renuzit for the final task were shown once more. The Donald them asked some of the eliminated contestants who they would pick. Tim went with Nicole and pointed out that she stepped up to be project manager early in the process. Aaron endorsed James because of his technology background.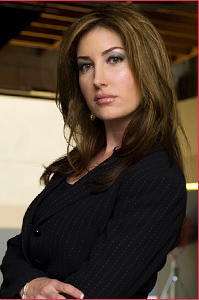 Trump revealed that the two job choices for the apprentice would be overseeing a luxury resort construction project in the Caribbean or overseeing the construction of Trump Towers Atlanta. When he asked each candidate which job they would select, Stefani chose the Caribbean, James chose Atlanta, Nicole chose the Caribbean and Frank chose Atlanta.
Ivanka Trump told Frank and Nicole that she wasn't impressed with their commercial. Don Trump, Jr. said he felt theye made a weak decision in who they picked to help them on the final task.
The Donald them stepped up and told Frank: "You hired Surya, who didn't like you. He wanted nothing to do with you. I disagreed with that choice very, very strongly. Not because of him, he's fine, but because you didn't get along. Your mini-movie wasn't good, you almost got fired in the first week, but I do love your drive. I love lots of things about you, but there are certain liabilities. Frank, you're fired."
From there, it was on to Nicole: "I'm a believer in romance, but I'm not a believer in inter-office romance. You love Tim, you like Tim, I think that's wonderful, but you know what, I want you to love me more, it's important because I've got to be the boss. I didn't like your mini-movie, it didn't have it. Nicole, you're fired."
During the last boardroom, Stefani insisted that she was the glue that held their team together, while James insisted he was a leader and Stefani was merely behind the scenes. Heidi and Kristine both endorsed Stefani. Frank complimented both James and Stefani and told Trump he was on his own.
Trump told Stefani that he was a little concerned about her going under the radar. However, he said to James: "James, you're terrific in every respect. You're totally creative, I love creative people, but there were certain things and certain dialogue that you gave during the course and you know what I'm talking about, that bothered me very much.
You're an outstanding guy. I really think you're going to be a big success, but for now, James, you're fired. Stefani, you're hired."
And that was that. Congrats to Stefani Schaeffer.
Matt Richenthal is the Editor in Chief of TV Fanatic. Follow him on Twitter and on Google+.