Mookie Lee's time on Survivor: Fiji brought up a number of questions. Why did he tell Dreamz about the hidden immunity idol? Did he believe Dreamz when he said he'd been backstabbed too? Can he justify going through Yau-Man's bag? Mookie, who bid farewell to the show last week, was kind enough to answer all of this and more in an interview with Reality News Online. Excerpts below.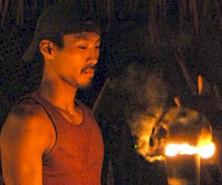 Q: What was your strategy going into the game?
Mookie: I really didn't have a specific strategy. I think the dynamic of the game changes constantly. They always have different twists. I'm normally a perceptive person, so I [planned to use that]. I defintely didn't want to be that person who puts their foot forward and is on the chopping block, but given the scenario, I was able to adjust and be the person who led a team and then adjust and let other people step forward.
Q: Alex claimed this week that you wanted to go. And I heard from others way back in the Ravu days that you said similar things. Did you really want to go?
Mookie: Obviously, back in the Ravu days, it was out of frustration that I would speak my mind. But my heart wanted to be in it and it showed in how competitive I was. And in being creative, like in the last episode. I may say things out of frustration, but in the end, I have the will to win. I stayed long enough to prove I am a competitor. I definitely showed I wanted to be there.
Q: Why did you tell Dreamz about the idol, especially after Edgardo and Alex asked you not to?
Mookie
: From day one, I knew there was a Spanish connection between Alex and Edgardo. I was on the other tribe and [looking ahead to] the merge, I knew I couldn't trust Edgardo - Alex maybe, but I knew he was Edgardo's spokesperson. I needed somebody I could trust.
I thought all the way down to the end of the game, if they brought along Stacy, Dreamz and I would be outnumbered. I thought I would align myself with somebody I could trust. Obviously that was the wrong person.
Q: Do you think there was anything you could have done to keep Dreamz on your side?
Mookie: Dreamz was very close to Cassandra and I think had I told him about the idol earlier, he would have stayed on par, but I think the way it looked [after the merge], they had the numbers, and he wanted to go where the numbers were.
Had he stuck to the plan, I think we would have went all the way. But I don't think I could have done anything else but maybe not trusted him as much, but at that point I had no choice.
Q: You said you would have gone all the way - what was your plan if Dreamz had stayed true? Were the Four Horsemen for real, or were you planning to jump ship if you could?
Mookie: At a certain point, you have to align yourself and make that call on who you want to go all the way with. You can't keep jumping ship or else people will eventually figure out your plan and you'll get voted off. Had we stayed true, we would have gotten rid of Cassandra, who was holding together the other alliance, and we would have had the numbers, we would have brought on Boo, and one by one taken out the other alliance.
But that Tribal Council was basically the end of me. Obviously there are some twists and turns, but at that point I knew I would be gone sooner or later because the other alliance outnumbered us.
Q: Did you and Alex believe Dreamz at all when he told you the next morning that he'd been double-crossed too?
Mookie: No, we knew he backstabbed us and was a traitor. His reasoning behind why he voted for me and how Tribal Council went - we may have gotten outwitted, but we're not stupid. We decided we needed to think of something else, which is when we turned to looking into Yau-Man's bag.
Q: Did you consider abandoning Alex and trying to become a swing vote within a subgroup of the main alliance?
Mookie: At a certain point, I showed loyalty to my alliance and established Alex as a friend. Once our alliance got broken down, I knew the others didn't see me as a person they could trust and basically if they kept me around, you never know what's going to happen.
Even though I tried to infiltrate their alliance, I knew they wouldn't accept that and would know I was desperate. That was the word around camp, that we were "desperate" and would do anything to stay in the game. When you have that many people saying it, it became clear we had no choice but to trust each other.
Q: With that in mind, how do you feel about Alex voting you out?
Mookie: That came as a surprise actually. I figured it out after being voted out. I can't blame him. I don't know if he knew there would be a partial vote. The original plan was to vote Boo, but he said he'd make the vote count and he did. I didn't know that, had I known I would have voted for him and it would have gone down to the wire again. I don't blame him for doing it and think it was very smart on his part.
Q: Is there anything else you'd like to tell us about your time on Survivor?
Mookie: It was a great experience, and despite the fact that [I didn't win], I played a great game, going to every Tribal Council and losing every challenge. Other than that, I think I showed a lot of character and learned a lot about myself and made some new friends. It was definitely worthwhile.
Matt Richenthal is the Editor in Chief of TV Fanatic. Follow him on Twitter and on Google+.