Bravo, along with show producers the Weinstein Company and Miramax, announced last week that Tim Gunn would be back to knock another season's worth of straight-talking design sense into the often feuding aspiring couturiers.
"I am thrilled to make it official that I will be back in the workroom for season four of Project Runway," Gunn told E!. "We are in the midst of casting the designers now, and I can already see that it will be another amazing season."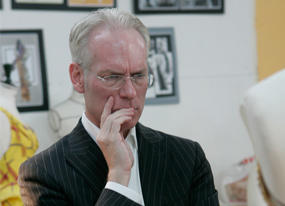 As previously announced
Heidi Klum
, will return in her capacity as host and judge on the show, alongside designer Michael Kors and
Elle
fashion editor
Nina Garcia
.
In December, Entertainment Weekly reported that Gunn was the only Runway player without a new deal, sending TV blogs into a tizzy with speculation that he would not return. In the months that followed, he changed day jobs, moving from chair of fashion at Parsons The New School of Design to chief creative officer of Liz Claiborne and got more TV gigs.
First, Bravo gave him his own series, Tim Gunn's Guide to Style (based on his book of the same title), and then he guested as a TV reporter on ABC's Ugly Betty in February. All the while, his Runway future seemed uncertain.
However, Gunn's importance to the series wasn't lost on producer Harvey Weinstein, who credited the fashion guru's "passion, creativity and dedication" to making the show "such a commercial and critical success."
While the new cycle of Runway won't air until this summer, the casting process kicked off last week in Los Angeles. Gunn, along with a contingent of the Emmy-nominated series' producers and last year's winner, Jeffrey Sebelia, gathered together to whittle through the wannabes, each of whom was required to show up with a sample of three articles of clothing and a portfolio.
Gunn told E! News that while such outré personas (think inaugural winner Jay McCarroll, season two finalist Santino Rice and Sebelia) were expected on the fashion-centric show, the primary criterion for prospective contestants was "design aptitude, not personality."
And while being outrageous can't hurt, Gunn said that Project Runway, unlike a certain Fox-based juggernaut talent competition that shall remain nameless, didn't prize entertainment value over genuine skill in its contenders.
"There's some people about whom you just figure they're there merely to be embarrassed and we don't want that," he told E! News. "We take the industry very seriously, we take the process very seriously, we take the mission of the show very seriously and we really want to support up and coming designers.
"Talent comes first," he continued, "and you appreciate the good when you see the lunatic fringe."
And while Gunn is frequently cited as the calm yet stern voice of reason on the reality competition, he was the first to admit that while he strives to "make it work," he doesn't always make it right.
"I'm the one who said season one there's no way we can put Austin Scarlett and Jay McCarroll on the same show. There's no way. People won't believe they came from the same planet, let alone the same show. I was completely wrong. And I have to say, I'm frequently wrong."
Matt Richenthal is the Editor in Chief of TV Fanatic. Follow him on Twitter and on Google+.