Looks like So You Think You Can Dance, America's Got Talent and the several Mark Burnett reality TV shows slated for this summer are going to have some super company.
The Sci Fi Channel has announced that the second season premiere of Who Wants to be a Superhero? - the hit comic book-themed reality TV show that searches for America's next great crime-fighter - will premiere on Wednesday, July 25 at 9 p.m.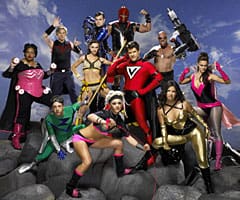 In its second season, Who Wants to Be a Superhero? will expand from six to 10 one-hour episodes. Similar to its first season, the second installment will feature legendary comic-book creator and Marvel Comics founder Stan Lee as he tries to find a next generation superhero among a group of contestants who create an alter ego, all the while living together and competing in challenges.
Who Wants to Be a Superhero? will conclude with the winner's character being immortalized in its own comic book by the great Stan Lee.
Casting to find various caped crusaders and masked martyrs for Who Wants to be a Superhero? 2 recently concluded. Applicants were asked to dress in costume, reveal the true nature of their powers, and invoke the noble code by which they live.
Sci Fi Channel renewed Who Wants to be a Superhero? for a second season last October, as its first season averaged 1.5 million viewers.
Matthew Atherton was crowned the winner of Who Wants to be a Superhero?'s first season. "Feedback," Atherton's alter-ego, is a software engineer who got caught in an explosion that riddled his body with hi-tech cellular shrapnel and led him to discover his body now generates a feedback field that shuts down electronic equipment and can absorb powers of video game characters.
Sci Fi Channel also announced Derren Brown Project, a new reality TV series starring British mentalist Derren Brown, will premiere on Wednesday, July 25 at 10 p.m. immediately following Who Wants to be a Superhero?'s season debut.
In addition, new episodes of Ghost Hunters will begin airing on Wednesday, June 6 at 9 p.m. and will be followed by the premiere of Destination Truth, a new Sci Fi Investigates - like reality TV show that investigates some of the world's most talked about and unexplained stories, at 10 p.m.
Matt Richenthal is the Editor in Chief of TV Fanatic. Follow him on Twitter and on Google+.