As a judge on Dancing with the Stars, Carrie Ann Inaba takes copious notes during performances.
Following a show during which both Laila Ali and Joey Fatone racked up perfect 30s, here's a look at what Carrie Ann jotted down as they danced: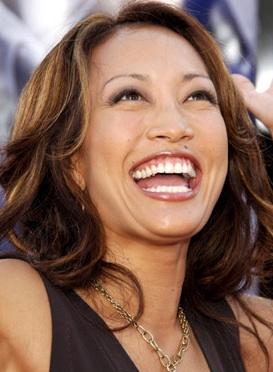 Laila Ali
: "I'm so happy that Laila showed us the beef!" says Inaba. "She finally let loose. I knew she had it in her. And it wasn't in the way I thought she would do it. I thought it would be this very powerful and dramatic thing. But it was very light and elegant and graceful."
Apolo Anton Ohno: "Apolo had a rough night tonight," says Inaba. "I think Len was a little hard on him for the first round [the fox trot]. But Len is the ballroom expert, so maybe he saw things that Bruno and I didn't. But I think that critique rattled Apolo a little bit. Tonight, he had a bit of the Ian syndrome, in that he was in his head. And then he was off rhythm, he was dancing ahead of the beat, and he and Julianne weren't connecting. They were out of sorts with each other."
Joey Fatone: "Joey decided he was going to leave Apolo and Laila in the dust. He finally realized we're getting close to the end and now he's giving 100 percent. It's amazing he's done so well up until now. I feel like he's only been giving 85 percent."
Ian Ziering: "Ian finally came out of his shell," says Inaba. "Authenticity reads so well on this show. When Ian's not comfortable, it shows. Tonight he decided, 'You know what? I have nothing to lose.' He had a few missteps. But we're going to see a lot of growth in him. And he saw how the people reacted so I think it's going to be a little addictive for him."
Billy Ray Cyrus: "I love him for trying and for his courage and his passion," says Inaba. "He really is trying to get an '8.' And you know what? If he sticks around, if he just gives us a little more content, he could get it. Because he really does have something magical about him."
John Ratzenberger: "I thought he did really, really well," says Inaba. "Ballroom dancing is for all ages and of all the older gentlemen we've had on this show, he's really the best one. George Hamilton and Jerry Springer wowed us with their charisma and theatrics, but John has actually got the frame and is doing it properly. In a real ballroom dance competition, he would do quite well."
Matt Richenthal is the Editor in Chief of TV Fanatic. Follow him on Twitter and on Google+.