Don't worry, you can see Phil Stacey and Chris Richardson again soon.
The two may have been voted off American Idol last night, but the American Idols Live tour dates were released this week and should help to alleviate the fan depression that comes along with the show's looming finale.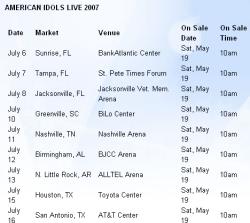 The tour is slated to occur between July 6th and September 22nd and lands at 50 different locations across the country, including a stint in Canada.
If you happen to live in close proximity to one of these cities, this may be your only opportunity to see this year's top 10 in the flesh. Yes, Sanjaya Malakar will even be there.
Most tickets appear to be going on sale at the respective venues on Saturday, May the 19th in the early morning.
So if you yearn to see Sanjaya, Blake Lewis, Lakisha, Melinda, the Chris', Gina, Jordin, Haley Scarnato, and Phil sing in person, your chance to purchase tickets is fast approaching.
Matt Richenthal is the Editor in Chief of TV Fanatic. Follow him on Twitter and on Google+.