America's Got Talent. And David Hasselhoff as a Drunk, Accusatory Judge.
Matt Richenthal at .
Actor David Hasselhoff has accused his ex-wife of abusing their children and leaking a videotape that shows him drunk at his home in Las Vegas.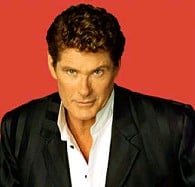 "Unfortunately, our children have been subjected to physical and emotional abuse on numerous occasions, but it has been at the hands of their own mother, which abuse has been documented by the court-appointed experts in our marital proceedings," Hasselhoff said in a statement posted by TMZ.com.
In a statement issued through her lawyer, the Baywatch star's ex-wife, Pamela Bach, denied leaking the tape and said she had not seen it.
Following the fatal car accident instigated by Brandy - who has since been replaced by Sharon Osbourne - this is the second controversy in a few months involving America's Got Talent judges.
Hasselhoff acknowledged being a recovering alcoholic and said the tape, apparently made by one of his children, shows him during a relapse. He said his daughter wanted to help him by showing him what he looks like when drunk.
Hasselhoff and Bach were divorced last year. But they are still disputing child custody. In an interview with Ryan Seacrest on E! News, Hasselhoff said his next step is "hiring an exorcist."
Our next step? Tuning in to America's Got Talent this summer to see the wasted specimen in action!
Matt Richenthal is the Editor in Chief of TV Fanatic. Follow him on Twitter and on Google+.