Tessa Horst, a 26-year-old San Francisco social worker, accepted the final rose - and a marriage proposal - from U.S. Navy Lieutenant Andy Baldwin during the final Rose Ceremony of The Bachelor: Officer and a Gentleman.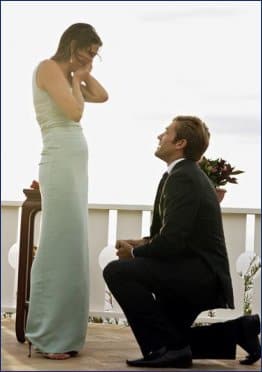 Andy's proposal to Tessa and her acceptance of it marked the first time in four seasons and only the second in its last seven that
The Bachelor
ended with its bachelor proposing to his final female choice.
"I've always imagined this day, and this is beyond my wildest dream... I met this woman who makes me feel so happy and so unbelievably amazing. I want to say to you Tessa... Will you marry me?"
Andy Baldwin, a 30-year-old undersea medical officer stationed in Pearl Harbor, Hawaii, asked Tessa Horst from bended knee at the conclusion of last night's special two-hour finale.
"Yes!" answered Tessa, who put her hand to her mouth and whispered, "Oh my God..."
As Andy slipped a diamond engagement ring around Tessa's finger, she said, "This moment is perfect" and he agreed.
In choosing Tessa, Andy dispatched of Bevin Powers, a 28-year-old Palo Alto, Calif., clinic research coordinator who became the 24th and final lady to be eliminated from Officer and a Gentleman's pool of 25 aspiring wives.
Continue reading our guide to last night's gripping conclusion of the 10th season of The Bachelor: Officer and a Gentleman ...
Matt Richenthal is the Editor in Chief of TV Fanatic. Follow him on Twitter and on Google+.