Salivation can be an involuntary response.
You know this all too well if you've gazed upon this picture of U.S. Navy Lt. Andy Baldwin, a.k.a. The Bachelor. Unless you're a guy, of course... oh heck, probably even then. The man is a hunk, folks.
Here, Andy Baldwin is seen exercising in Central Park in New York City. The reality TV dreamboat is an undersea specialist in diving. He's also a triathlete ... and a doctor. How is this man single?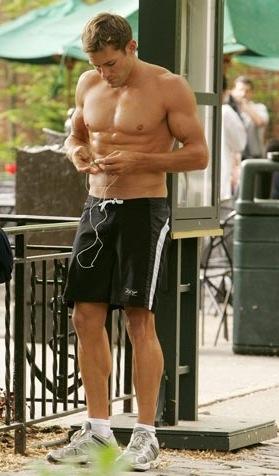 Well, the Sports Gal of ESPN.com would tell you in her episode five guide that Baldwin can be a little dorky. But still, come on. Look at those abs. You have to register those things, right?
Suffice it to say, Andy Baldwin is the anti-Dustin Diamond in every conceivable way. Either Tessa Horst or Bevin Powers - whoever wins his heart on Monday - will be a lucky, lucky woman.
Matt Richenthal is the Editor in Chief of TV Fanatic. Follow him on Twitter and on Google+.