Ben Mollin doesn't look like a man who would know about hair.
First of all, he barely has any - he keeps his dark brown hair cut down in a low fade and often shaves himself bald or rocks a short Mohawk. His arms are covered with tattoos. And he prefers discussing his aspirations as a saxophone player to talking about asymmetrical cuts, shags and bobs.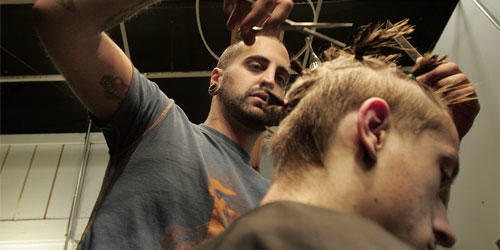 But from the day he French-braided a classmate's hair at T.F. North High School, he's known his path. "She was all super happy," he recalled. "I thought, `I should do this for the rest of my life.'"
Mollin, 32, developed a cult of customers who followed him from salons to basements to his Calumet City, Ill., house, where he did hair for a while, and finally his new place: a small, hip-looking room in the back of a music instrument store.
He has gained a broader following now on the Bravo network reality show Shear Genius, which pits charismatic and sometimes melodramatic hairstylists against each other in weekly challenges. The winner of the competition has his or her work showcased in commercials and magazines and takes home $100,000 cash.
Mollin has been keeping his fans who watch the Wednesday-night episodes at the edge of their seats. Sometimes he's among the top three stylists, but he's also come close to being told "this is your last cut" and to pack his clippers and go home.
In the hair salon, Mollin enthralls clients with sagas of a free-spirited life. One moment, he's playing a gig at a nightclub, the next he's shooting a music video for a song with hard-core beats that's simply about people needing haircuts. He raps:
Yeah I understand this is the biggest day in your life
You wanna bring in a picture ...
You wanna look like the girl on TV
But I ain't no witch doctor
I ain't no magician
I'm a beautician, you know what I'm sayin'
"When I get home, it's like telling the adventures of Ben," said client Mary Lou Frederick, 57. "I've always got a story about what he's up to. He's always doing something, always evolving."
Click here to read the rest of this article.
Matt Richenthal is the Editor in Chief of TV Fanatic. Follow him on Twitter and on Google+.