The amazing Chandra Wilson, who stars as Dr. Miranda Bailey on ABC's hit drama, Grey's Anatomy, will be hanging up her white coat and stethoscope this summer to host SOAPnet's live, two-hour special from the red carpet of the 34th Annual Daytime Emmy Awards.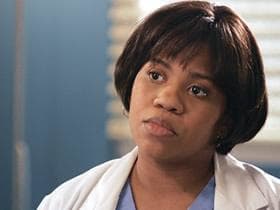 Wilson, a longtime fan who admits to watching hours of soaps a day, looks forward to chatting with the folks from her favorite shows.
Entertainment Tonight caught up with the TV doc at a shoot for her upcoming gig, and got a little bit of scoop on Greys Anatomy from the actress whose character surprisingly wasn't named Chief Resident in the Season 3 finale.
"It is alright," she tells ET. "[Dr. Bailey] already has her clinic. Maybe if she didn't have the clinic, she probably would have been in a better position [to land the job], but she is already running that thing. She had those conversations this year with the Chief about doing too much."
"[Richard Webber] told her: 'You need to slow down. You need to delegate.' She doesn't want to delegate. She wasn't willing to delegate. She wants to do it all. This was a good lesson about you can't do it all, or you don't have to do it all. This is a nice little wake-up call for her."
Grey's Anatomy goes back into production in July, and Chandra Wilson has been online scoping fan blogs to get viewers' take on what they want to happen in the fourth season.
"The fans wish she had made chief resident, but everything in due time," Chandra said. "She is not an attending yet. She still has that to do. We keep forgetting she has the whole responsibility of the clinic, but the fans are hoping for a showdown between Callie (Sara Ramirez) and Bailey."
What Chandra won't do is speculate on rumors as to the future of T.R. Knight and Isaiah Washington on the show.
"I really don't know what is in store," she says. "All Shonda Rhimes said is there is some great stuff in store for us. We're going to be getting back to some fun things."
Steve Marsi is the Managing Editor of TV Fanatic. Follow him on Google+ or email him here.