I Love New York 2 - You Cast It! premieres this Thursday at 10:00 PM on VH1.
The show will include New York/Tiffany Pollard, of course, along with several other Flavor of Love girls speaking their minds.
These loose women will be deciding on the suitors for New York in the show's second season - and we're excited to report that one of them may be a wild-haired former American Idol contestant.
Indeed, folks, TMZ has learned that Pollard has attracted what appears to be exiled Idol Sanjaya Malakar as one of her hopeful suitors.
Contestants who want to be on the new season are asked to set up a profile and send in a video explaining why they are the man for the job. While we're unable to confirm if the real Sanjaya sent in the video, take a look at the grainy image for yourself.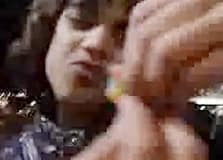 It's hard to duplicate that hair, isn't it? Stay tuned for more!
Matt Richenthal is the Editor in Chief of TV Fanatic. Follow him on Twitter and on Google+.