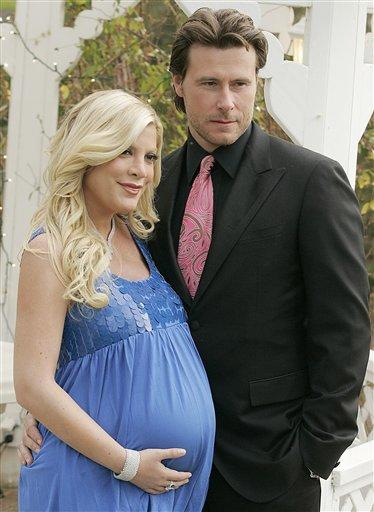 Just when you thought
Tori & Dean: Inn Love
couldn't get any more lame, here's another reality about Tori Spelling and husband Dean McDermott's TV show:
The couple do not actually own the bed-and-breakfast.
They only rent it.
"It's a lease, with an option to buy," Christina Gilmartin, a publicist for the show, which debuted on the Oxygen network in March and has been renewed for a second season, tells The New York Times.
Contrary to the publicity materials for the reality show, Spelling, 34, did not purchase the property.
Nor did she sink all of the $800,000 left her by her late father, legendary TV producer Aaron Spelling, into the now-famed Chateau La Rue.
Basically, the premise of the show is about as real as the perky breasts of Heidi Montag. Or any recent photo of Montag and Spencer Pratt.
"She put down money of her own on the property, and part of her inheritance did go to that," says Gilmartin of Tori Spelling.
Although the program showed Spelling and Dean McDermott, 40, negotiating, then closing a deal to buy the property, the Chateau La Rue is still owned by Christopher and Patricia King, who have it up for sale at $2.6 million.
The inn is located in Fallbrook, Calif., about 100 miles southeast of Los Angeles.
"It's smarter for them to dip their toe in water and test this out," Randy Barbato, a producer of the show, told The Times about the decision to lease, rather than buy.
How did this show get renewed again? Just asking.
Matt Richenthal is the Editor in Chief of TV Fanatic. Follow him on Twitter and on Google+.