Each week, America's Next Top Model winner Jaslene Gonzalez had to brave crazy photo shoots with full hair and makeup, TV cameras capturing her every move 24/7, and a notoriously tough judging panel.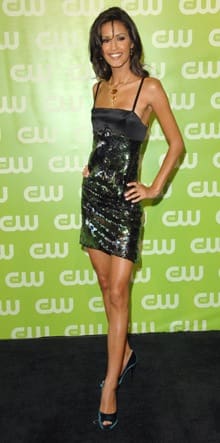 In the end, the show's judges, including executive producer
Tyra Banks
, selected the Chicago native to take the top prize.
And deservedly so. After she edged out Natasha Galkina, Us Weekly caught up with America's newest CoverGirl during her recent press tour in New York City.
Us: Who is the first person you called right after you won the show?
Jaslene Gonzalez: Definitely my mom. Once I told her, she told everybody.
Us: What was it like standing in front of the America's Next Top Model judging panel each week?
Jaslene Gonzalez: You're under so much pressure. You think one day you're doing so well and then you're going to the panel room and they critique you so harshly it puts you down. In the middle of the competition I fell off a little bit.
Us: You also auditioned for the show last season but were cut.
Jaslene Gonzalez: I think it prepared me a lot more this time around.
Us: You said Miss J (a.k.a. J. Alexander) is your favorite judge. Who would win in a walk-off between you two?
Jaslene Gonzalez: He lived for my walk. He was in love with me and I was in love with him. He's a queen and I'm a queen, so we have so much in common.
Matt Richenthal is the Editor in Chief of TV Fanatic. Follow him on Twitter and on Google+.