Kellie Pickler looks a bit more curvy these days than she did as a Season Five American Idol finalist – but she doesn't have anything she wants to get off her chest.
On the KIIS-FM radio show of Ryan Seacrest Monday morning, the host asked Pickler how she felt about people's comments on her "supersize" figure after she made a guest appearance on this season's Idol.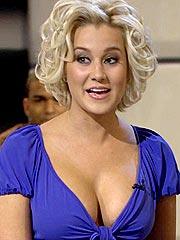 "Are you talking about my boobs again?" She replied. "Why are you looking at my boobs anyways, you pervert?"
"I'm not looking at them, America is looking at them," Seacrest said.
Pickler responded that she simply appeared to have a fuller physique because "My hair was shorter so everything else looked bigger. [Besides,] I'm 20, my boobs are supposed to be perky."
Still, Seacrest didn't let up. He directly asked about the possibility of phony boobs.
"I don't know," Pickler said. "Ever since the show and your comments, all I hear about is my boobs. But you know me, Ryan, I like to be the center of attention, and right now me and the girls, we are pretty much getting a lot of attention. I like to keep it a mystery. Let the mystery live on because as soon as I say yes or no then no one is going to care anymore."
In the meantime, Pickler has been keeping herself busy with other things.
She's currently on tour opening for Brad Paisley and performing her new single "I Wonder," about her mom, who left when Pickler was a little girl. "I feel like people are really getting to know me on an intimate level," she told Seacrest.
Matt Richenthal is the Editor in Chief of TV Fanatic. Follow him on Twitter and on Google+.