Mark Philippoussis knows all about love. The tennis score that is a synonym for zero, that is.
But the romantic emotion? Not so much.
Fortunately, NBC and a new reality show have come to his rescue. Because he's "so shy" and wants to "meet someone," the professional athlete admitted to People magazine this week that he's the hopeful bachelor on this summer's show, Age of Love.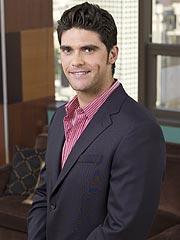 In this mating game, half the women are in their 20's and half in their 40's - but "age doesn't matter to me," says Philippoussis, 30. "All the women are beautiful."
Once ranked among the world's top tennis stars, Philippoussis has been sidelined by a series of knee surgeries. But worse, he says, he's been single since last August. And he wants the world to know that despite tab reports, he has "never, ever dated Paris Hilton or Tara Reid."
Well, okay then. Guess that explains why he'll team with host Mark Consuelos in hopes of finding the perfect match on the show.
With dreams of returing to Wimbledon's Centre Court in June â€" he lost in the finals in 2003 â€" Philippousis has been playing tennis four times a week with friend Gavin Rossdale at the Beverly Hills estate the rocker shares with wife Gwen Stefani and son Kingston.
Rossdale is one of a handful of people who knew about Age of Love. "Gavin said to me, 'Wow. You could change the dating habits of all mankind!' " Philippousis says.
But for now, he's just "a simple guy who wants a simple girl." And she must meet certain standards: If she smokes, forget it. Ditto for anyone who doesn't like dogs. Says Philippoussis: "I just don't see how that could ever work."
That's because his 4-month-old Rottweiler puppy, Kya, is the main girl in his life right now.
"When I turn out the lights, she gets up on the bed and puts her front paws on my shoulders and she kisses me goodnight," he says. "Now that's love."
Matt Richenthal is the Editor in Chief of TV Fanatic. Follow him on Twitter and on Google+.