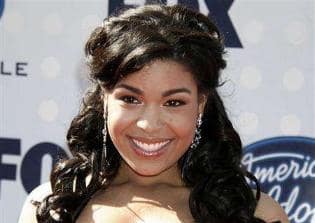 Attention,
Brad Pitt
:
American Idol
winner Jordin Sparks has a crush on you.
"He's just really cute," Sparks, 17, said Friday, hastening to note that she doesn't know the actor also known as Angelina Jolie's baby daddy.
Two days after besting Blake Lewis in the TV talent contest, Sparks took part in a teleconference in which she was grilled about everything from her favorite star to what she thought her earning power would be.
"I don't know. I'm just looking forward to doing the best that I can do," Jordin said.
Sparks, the youngest American Idol in the show's six seasons, is making the rounds of TV shows in Los Angeles and New York before she returns home to Glendale, Ariz., later next week for a break.
"It's been pretty crazy," she said, sounding hoarse but still as upbeat as the average teenager. Which is what she is, Sparks said.
"I'm just a normal, quirky 17-year-old," she said. Her biggest moments before American Idol were getting rid of her braces and gaining her driver's license.
How will she stay grounded, resisting entertainment industry pressures that can include an extreme emphasis on weight?
"Oh, that super-thin stuff - Hollywood needs to get over it," she said.
Asked what she'll sing on the American Idol concert tour with other finalists, she wasn't ready with an answer. But she probably won't focus too much on Lewis' specialty of beatbox sound-effects.
"He's tried to teach me but I'm really horrible at it," Sparks said.
Matt Richenthal is the Editor in Chief of TV Fanatic. Follow him on Twitter and on Google+.