Prepare for "The Greatest" audience member in the history of Dancing with the Stars, folks.
Former heavyweight champion Muhammad Ali plans to attend the hit ABC show to root for his daughter, Laila Ali, 29.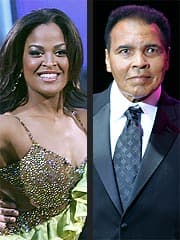 "He's a fan of the show and of my dancing," says Laila, who last week scored a perfect 30 thanks to a high-energy samba with partner
Maxsim Chmerkovskiy
. "I'm glad that he'll be able to come and take it all in."
Despite the added attention that will surround the visit, Laila has her eyes set on raking in more 10s for her waltz and jive this week.
"I don't look at him as everyone else does â€" as 'Muhammad Ali coming to the show!' It's just dad," she says. "I don't have time to really get caught up in any situation [except for] my training and getting prepared, because the last thing you want is to have everyone in the audience and go out there, mess it up and get bad scores."
But it wasn't Laila pop that got her onto the dance floor.
"My dad wasn't a big dancer," she told People magazine in March. Nevertheless, her father was excited when Laila told him she was entering the ballroom competition: "He said, 'Show me your moves!' and I showed him a few moves."
Ali â€" who was diagnosed with Parkinson's disease in 1983 â€" will be joined in the audience by his wife, Lonnie. Also in Laila's corner will be her regular cheering section: her fiancé, former NFL star Curtis Conway, and her mother, Veronica Porsche Anderson (who divorced Muhammad Ali in 1986) â€" along with Laila's older sister, Hana, and her grandmother.
Matt Richenthal is the Editor in Chief of TV Fanatic. Follow him on Twitter and on Google+.