Today is your first chance to see Kristine Lefebvre nude. Her Playboy issue hits the stands nationwide.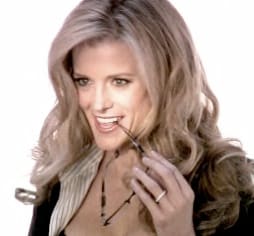 And while her beauty is no secret, the battle that this former
Apprentice
candidate underwent to get here isn't as well known. As Lefebvre tells Marc Malkin of E!, she was diagnosed with cervical cancer after two years of infertility treatments resulted in two miscarriages. She underwent a radical hysterectomy about a year and a half ago.
"I ended up switching oncologists, because my first oncologist refused to let me harvest eggs before my surgery. So, I found a woman who understood my needs and said, 'Yes, it's a risk, but it's a well-considered risk, and if I were you, I'd absolutely do it.' So, we have 10 frozen little babies."
Kristine said she went through periods of questioning her womanhood, wondering whether or not she'd be able to please her husband again. But through it all, she wanted to inspire others.
"I want people who have gone through what I've gone through to realize they're still a whole person," the lovely lawyer said. "I hope there's one woman out there who has had breast cancer and is willing to go back into her lingerie drawer and pull out that lace bra - not to make her husband or her boyfriend feel good but to make herself feel good."
Granted, most people don't take the route that Kristine followed in order to heal.
"I went through the craziest path to sort of heal from this process: The Apprentice and then Playboy," she said. "It's not your normal course of therapy, but it ended up working."
Now cancer free, Lefebvre and her husband are looking to start a family.
"I will be using some of my Playboy money to get a surrogate so we can have our little frozen babies turn into the real thing."
Matt Richenthal is the Editor in Chief of TV Fanatic. Follow him on Twitter and on Google+.