The doctors of Grey's Anatomy and ER have devoted fans, but USA Today asks whether any would want to be their patients? Below is the newspaper's fun article on now hot TV M.D.'s can be hazardous to your health:
MISMANAGED CARE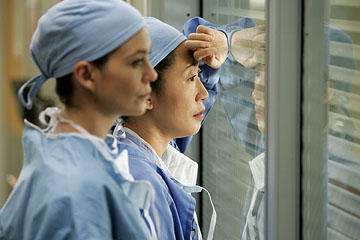 Grey's Anatomy
Meredith (Ellen Pompeo) saves a woman with a Do Not Resuscitate (DNR) order, the result of mislabeling during a nurses strike.
An inebriated anesthesiologist becomes a literal McDreamy, falling asleep during surgery.
During the Code Black crisis, a cowardly doctor abandons a patient who has a large unexploded shell in his chest. It later blows up a member of the bomb squad (Kyle Chandler).
During a huge ferry accident, Meredith nearly drowns, drawing the attention of the whole moping staff, despite dozens of other victims. Is there a patient in the house?
ER
The shot you get is likely to be a bullet. This place has had shootings, explosions, virus and toxic-fumes quarantines, even a tank attack. Last season, Nurse Sam's (Linda Cardellini) criminal husband and his psychotic pal shot up the ER, endangering pregnant Abby (Maura Tierney) and drugging Kovac (Goran Visnjic). But they did thin the line in the waiting room.
In other episodes, an unconscious teen is sexually assaulted and doctors suspect an Angel of Death is murdering patients. Like they need the help.
Gunplay is such a threat that Pratt (Mekhi Phifer) is found to be packing in one episode.
ETHICAL FLATLINE
Grey's Anatomy
Just about everyone - even supervisor/subordinate and physician/patient, each a no-no - "plays doctor." Here's Grey's version of serial monogamy (to the tune of Dry Bones): "Callie's (Sara Ramirez) connected to McSteamy (Eric Dane), McSteamy's connected to Addison (Kate Walsh), Addison's connected to McDreamy (Patrick Dempsey) ..." The chain then connects to Meredith, George (T.R. Knight), nurse Olivia, Alex (Justin Chambers), Izzie, George again and back to Callie.
Meredith's one-night stand shows up in the hospital the next day for treatment.
ER
These emergency docs operate as much as Grey's surgeons, with a specialty in love triangles: Benton (Eriq La Salle)-Corday (Alex Kingston)-Greene (Anthony Edwards), Sam-Kovac-Abby, Abby-Carter (Noah Wyle)-Kem (Thandie Newton), etc.
Carter canoodles with others, including a second Abby, a pediatric surgeon.
Ray (Shane West) sleeps with an underage teen. He later treats her.
All that, without even considering the legacy of the original resident playboy - or is it playboy resident? - Doug Ross (George Clooney).
HARM THYSELF
Grey's Anatomy
A gunshot wound to Preston Burke's hand turns him into McShaky.
Surgical chief Richard Webber (James Pickens Jr.) has an anxiety attack during the Code Black crisis.
After a train wreck requires the skills of all available surgeons, Meredith can't help until she sobers up.
If ER is venerable, Grey's Anatomy goes venereal after a staff syphilis outbreak - a.k.a. six degrees of penicillin.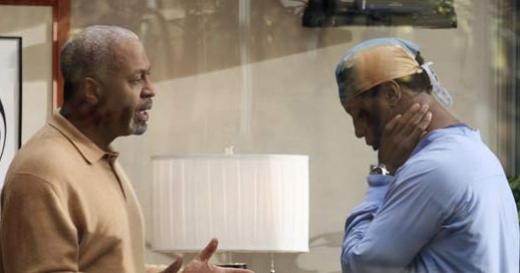 ER
Chopper 2, Romano 0. During a patient transfer, Romano's (Paul McCrane) arm is sliced off by a helicopter. Another whirlybird later finishes the job, crashing on him outside the ER.
In a road-rage confrontation, Pratt veers off a bridge, submerging his car. He and Chen (Ming-Na) are injured, and a patient/passenger later dies.
A mentally disturbed patient stabs Lucy Knight (Kellie Martin) and Carter. She dies. He develops a drug addiction.
Greene takes a vicious beating in a hospital bathroom and later trashes the doctors' lounge.
MAKING THE ROUNDS
Grey's Anatomy
The doctor is in, but not necessarily for the patient. Cristina strips down to red lace lingerie in Burke's hospital room.
McDreamy and Meredith take over an examination room to examine each other.
Alex and Izzie respond to the ominous Code Black by hooking up in a supply closet.
In yet another questionable superior/subordinate consultation, Addison pushes Alex into an empty room for a tongue-lashing.
ER
In the first season, Greene and his wife are caught in the act in a bathroom.
Carter treats a co-worker's rash, goes home with her and then needs treatment himself.
Passion can mean violence, too. Ross' treatment regimen includes breaking hospital rules and getting into fights with patients' parents.
Paramedic Gates (John Stamos) tries a patient outreach that might be called "Beat 'em and treat 'em," pounding a couple of guys bothering a drunken Neela, whom he later beds.
Steve Marsi is the Managing Editor of TV Fanatic. Follow him on Google+ or email him here.