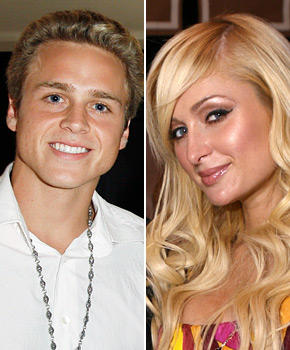 has never been one to shy away from attention. Fans of The Hills and the tabloids know that all too well. Is it shocking, then, that the slimeball has hopped aboard the Free Paris bandwagon with a "Free Paris" MySpace page and an online petition?
When he's not frolicking on the beach with girlfriend Heidi Montag, the loser has apparently been leading the fight to get Paris Hilton off the hook from her recent legal imbroglio.
ANYTHING makes for a better cause than that. Even convincing Heidi to get a boob job. But Spencer, as we know, is all about publicity.
"I've always thought that the punishment should fit the crime," says the greasy villain from The Hills.
"Paris has changed her image dramatically over the last couple years. She's a good role model, a smart businesswoman. It's a shame that a miscommunication between her and her people is landing her in jail. She should get probation with community service, but no way should she be put in jail with real criminals."
Spencer Pratt claims that once 100,000 peeps sign his online petition, he will take up Paris' plight with L.A. Mayor Antonio Villaraigosa.
If 100,000 people sign that thing, we're leaving this country. What's next, Pratt launching a campaign to free Sean Stewart?
Speaking of people reinventing their image, Pratt is looking to go from the dude who caused Heidi to end her friendship with America's Sweetheart, Lauren Conrad, to being the only person stupid enough to lend public support to a slutty, spoiled DUI offender and useless socialite.
Wonder if Paris can get him a guest role on The Simple Life if his misguided campaign is for some reason successful.
Matt Richenthal is the Editor in Chief of TV Fanatic. Follow him on Twitter and on Google+.