With only six suitors remaining, it looked as if The Bachelor: Officer and a Gentleman star, U.S. Navy Lt. Andy Baldwin, was willing to give Stephanie Wilhite several chances to open up by taking her on a one-on-one date and approaching her prior to the Rose Ceremony that would reveal the Top 4.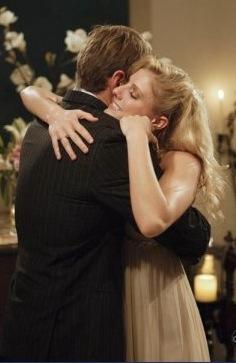 However, the 23-year-old project manager from Overland Park, Kan., just couldn't muster up the confidence and was sent packing.
"I do think I opened-up a little more than what was shown, however I think it comes down to the fact that I'm a little more shy than the other girls. Perhaps I was a little bit more reserved... I held back a little bit. I don't think that was necessarily a good thing obviously. I was rejected," said Wilhite.
"At first I think I was not so closed off because there wasn't as much at stake. But once I actually did start developing feelings for him, I wanted to see him more, so then I started to get nervous and perhaps a little more closed off. I do think we had a connection developing, but I wasn't able to really bring it to the next level."
Wilhite, nicknamed "Stephanie Kansas" during her time on The Bachelor, said she could sense that her time as a bachelorette was coming to an end even before she and Tina Wu, a 26-year-old med student who currently resides in Hollywood, Calif, failed to receive roses from the 30-year-old medical officer stationed in Pearl Harbor.
"I sort of predicted that I was going to be going home and so was Tina," she said. Having made it in the competition for Baldwin's heart as far as she did, Wilhite described the four remaining suitors - Amber Alchalabi, Bevin Powers, Danielle Imwalle, and Tessa Horst - as "wonderful girls."
However, she was quick to reveal who she think has the best chance of receiving Baldwin's marriage proposal during The Bachelor's 10th season finale.
"I really feel Tessa Horst has a strong connection with [Andy Baldwin]. They're both just amazing storytellers, both of them could start telling a story and you start cracking up knowing that it's going to be hilarious because it always is. They just hit it off and always be laughing with each other."
"Now, watching the show I can see how much romantic chemistry there was [between Tessa and Baldwin]," said Wilhite.
"I really feel like it's going to be Tessa that he proposes to. Just sort of catching these slight little glances he'll give her and seeing how much fun they have with each other. He really is more so chasing after her on the show, and I think that says a lot. There personalities match very well... charming people to be around. I think it's going to be Tessa and Andy."
White described herself as "a fan" of
The Bachelor
, and admitted she's "watched every season," including those starring
Lorenzo Borghese
and
Andrew Firestone
.
"My roommate and I were watching [The Bachelor: Rome's finale last fall], and at the very end of it they had [Baldwin's] ad. I almost dropped dead. I thought he was perfect. He looked like the exact type of guy I was looking for," she said.
"I happened to be single, recently at the time, so I decided what better time to do it than now. I'm ready for an adventure, I'm ready to find love."
After arriving in Los Angeles for filming, Wilhite said she noticed that she was one of the younger bachelorettes in the initial field of 25.
"Actually yeah [I did think my age would play a role] initially. I mean I knew I was ready for it or I wouldn't have tried out. But I was a little nervous to see how people would react to me because I was one of the younger girls," she said.
"I was surprised - well not too surprised - that [Bevin Powers] was upset by that fact. But, I mean, I truly think after you've graduated from college and you have your life settled and started, I don't really think it makes that much of a difference."
Wilhite's The Bachelor journey stopped just short of a hometown visit by Andy Baldwin, which she said was unfortunate because it might have been just what the doctor ordered to win over his heart.
"He almost came to Overland Park. Everyone would have been really excited to meet him and I know everybody would have just fallen in love with him. I don't necessarily think his fun personality and humor is coming across as well on camera, but he's very engaging," she explained.
"Being on the show in the situation with all the girls, I lost a little confidence knowing he kissed so-and-so last night or so-and-so really has a connection. But I think bringing him to my home, the reality would sink in that you know, I made it this far to the hometown visits, there has to be something. It probably would have made me a little more confident, probably more able to open myself up. If he meets my family then, he'd really be able to very quickly easily see who I am."
Unlike some of the bachelorettes that Baldwin had previously booted, Wilhite said "it's not really in my nature to be backstabbing at all."
"I really didn't participate in any of that and I don't really think it's as bad as it might seem on TV. But of course, naturally, there are going to be some people that might be jealous, feeling hurt," she said.
"Living in the house was actually a lot of fun. I come from a big family, I lived in a sorority, so I was pretty used to that. You know, I've never lived in a house with girls and we're dating the same guy before, but it was a lot of fun. We all helped each other get ready for our dates, cooked dinner for each other."
Wilhite said she's currently not dating and is still working at a Kansas City marketing firm, going out with friends and has some upcoming trips planned.
She described her time on The Bachelor: Officer and a Gentleman as "one of the best experiences I think I ever had," adding it was both "unique and very memorable."
"I think it just sort of reaffirmed what I'm looking for. Someone who's down to earth, fun to be with, makes me laugh, feel good about myself, challenges me, same interests..." said Wilhite.
"I really have learned a lot from the show. I learned a lot about myself, a lot about my interactions with other people, relationship-wise... I'm really just looking forward to the future, more so what I'm looking for and more about myself. It really comes down to it's pretty crucial to put yourself out there even if it's scary or you feel vulnerable."
Matt Richenthal is the Editor in Chief of TV Fanatic. Follow him on Twitter and on Google+.