Last night on The Bachelor: Officer and a Gentleman, a threesome (har har) of girls competed for the affections of Lt. Andy Baldwin.
Bevin Powers, a.k.a. the Ankle Faker, Tessa Horst, a.k.a. the Girl Who Already Won and Spilled the Beans, and Danielle Imwalle, a.k.a. Dead Boyfriend Girl, left nothing in the bag. But only two survived.
To the surprise of no one, Andy chose Bevin and Tessa, casting Danielle aside to join Amber Alchalabi on his growing pile of discarded would-be trophy wives.
It was time for fantasy suite fun in Hawaii last night as Andy Baldwin took the three remaining women to Hawaii, where he lives and works, for some of the... Most. Romantic. Moments. Ever.
Once again, ESPN.com's Sports Gal (wife of ESPN's Sports Guy, Bill Simmons) recaps the drama as only she can. Follow the link to continue reading The Scoop's guide to last night's episode of The Bachelor …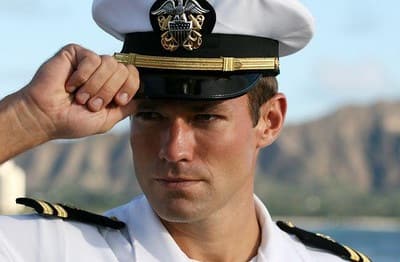 Matt Richenthal is the Editor in Chief of TV Fanatic. Follow him on Twitter and on Google+.