The Scoop has learned that Tori & Dean: Inn Love has been renewed for a second season by the Oxygen network.
The Scoop has just vomitted Inn its collective mouth.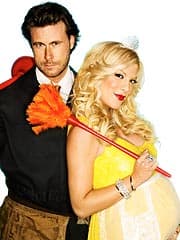 Yes, it's Chateau La Rue, part deux. Interested in watching Tori Spelling wield a feather duster and a diaper genie at the same time?
No? Well, in spite of the fact that this is the dumbest reality TV idea in history, it will be back for another go.
Tori & Dean: Inn Love has officially been re-upped for a second season by Oxygen, according to Spelling, a prolific blogger, who shared with us the good news (and more good news â€" it's her one-year wedding anniversary).

Here's what Tori Spelling writes on MySpace:
"Our show got picked up officially today for a 2nd season! What amazing news to recieve on our anniversary."
"We will come back in August (I think... not confirmed yet) with 10 all new episodes."
We'd almost rather watch Jennifer Toof get naked than sit through this show. Almost. She's not hot. Spelling goes on to write:
"To me everyday is our anniversary because every morning I get to wake up and look into the eyes of my husband and that is a celebration in itself."
No doubt Shanna Moakler says the same thing when she gazes upon a loving Travis Barker.
On that note, we will be tuning in for tonight's season finale at 10:30 p.m. It will be a long couple of months before Tori and Dean McDermott return for summer B&B love, so get your fix now.
Matt Richenthal is the Editor in Chief of TV Fanatic. Follow him on Twitter and on Google+.