Once again, let's go backstage at last night's American Idol results show ...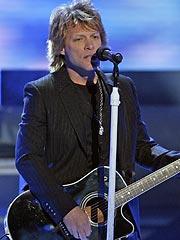 Rock Star Dad
: Before hitting the stage,
Bon Jovi
lead guitarist Richie Sambora made sure daughter Ava (with ex Heather Locklear) was settled in her seat, giving him time to greet fans. With a Red Bull in one hand, he shook hands with the other before someone led him backstage to prepare for his performance.
The Judges Hit Their Marks: For the first time in weeks something unheard of happened: All the judges came out on time and on cue, making it to their seats a full minute before showtime! Another surprise: Simon and Paula are all about PDA these days, as he flirted, touched and then affectionately hugged Idol's nicest judge. Randy Jackson showed even more love for Paula with a kiss on the cheek.
Bon Jovi Fever: Last night's crowd was filled with die hard fans holding signs that read, "Bon Jovi rocks!" "I [Heart] Bon Jovi" and "Bon Jovi is our original American Idol." A group of USC sorority girls held banners displaying the band's name, but they replaced the O's with holes where their smiling faces peeked through.
Fans were screaming so much that the show's stage manager had to beg them to save that energy until Ryan announced the band. But when the New Jersey rockers brought out acoustic guitars and jammed softly, disappointed fans sighed loudly and sat back down. Even ousted Idol Antonella Barba, visiting for a second night, let out a big yawn. Leave it to Blake Lewis to rev up the crowd – he screamed "Bon Jovi y'all!" and brought fans to their feet again.
Phil's Blaze of Glory: It was an emotional exit when one of Idol's nice guys got the sad news that he was going home. There wasn't a dry eye in the house as Phil Stacey made his way down into the cheering crowd to hug his Navy pals and kiss wife Kendra. Onstage, LaKisha Jones, Jordin Sparks and Melinda Doolittle wiped tears from their eyes – as did some audience members – while Phil gave his final performance onstage before walking off arm-in-arm with Kendra.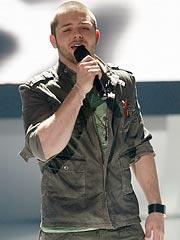 Ryan's Faux Pas
: Nobody missed it when
Ryan Seacrest
joked to Paula that she was prettier than Simon's "puppet," prompting Cowell to refuse to answer any of the host's questions. Ryan tried to save face, saying that he didn't mean girlfriend Terri Seymour, but at break, he asked Simon, "Are you seriously mad at me?" The judge just smiled and gave the puppy-dog-eyed host a handshake. Moments later Seymour came into the room and put her hand on her heart, looked at Ryan and said, "I heard you." Again, Ryan was all apologies and consoled her with a hug. Simon also made sure his gal wasn't offended, whispering in her ear while giving her a hug and kiss of his own.
Pinned Up: All the contestants wore red ribbons on their clothing in support of Idol Gives Back. LaKisha, however, was having problems getting hers to stay on – so it was mother hen Melinda to the rescue, finally getting it to stay in place moments before the final six posed for their group photo. Then it was back to consoling and supporting each other, as the remaining Idols wished each other good luck before cut time.
So Long, Chris: After Blake Lewis and Chris Richardson found out that one of them would be going home, the pals sat side-by-side onstage awaiting their fate. During the break, Idol producer Nigel Lythgoe shook hands with both, as did every member of Bon Jovi. Jordin, LaKisha and Melinda's waterworks came back, and just before Ryan read the results, the audience melted in awe when Richardson said, "I would go home for him," referring to his "best friend" Blake.
After Chris's name was called, his family, mother, father, uncle and aunt all stood on their feet throwing a hearty thumbs-up. Then, it was one last group between the Idols, setting off a chain reaction as judges, stage hands, band members and backup singers got in line to say good-bye.
Matt Richenthal is the Editor in Chief of TV Fanatic. Follow him on Twitter and on Google+.