Thanks to People magazine for this behind the scenes report on last night's Dancing with the Stars...
Birthday Boy Ohno
Besides a perfect 10, Apolo Ohno had something else to celebrate: his 25th birthday. On Monday, a week before his actual birthday â€" which happens to fall on the show's May 22 finale â€" Joey Fatone, Laila Ali and Ian Ziering chowed down on pizzas, chicken fingers, fried macaroni and cheese, and cake at Lucky Strike bowling alley in Hollywood. But Ohno, an Olympic gold medalist speed skater, had to skip the sweets at the party hosted by Stride gum.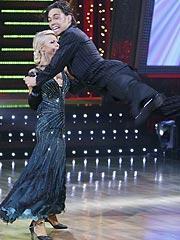 "I'm in training," he says, patting his stomach. "I can't eat cake. I could, but I can't."

'It Could Be Anybody'
Judge
Carrie Ann Inaba
tells
People
the four remaining couples made it difficult for her to give out low scores (for the record, she gave seven of the eight performances a 10).
"The choreography was incredible, the level of competition was high," she says. "Tonight they proved to us that they are really great competitors. ... Laila is so grounded and strong and then slightly dainty at times. Then there's Apolo, who's like a little termite, a happy termite fluttering around the floor. Ian and the wig, the Elvis thing. He really challenged himself and he pulled it off. And Joey? What can you say? He's incredible." Who's going to take the disco trophy home? "It could be anybody."
Ian: Back to His Old Self?
"You gotta give it up for The King!" Ian Ziering says of the Elvis wig he wore Monday night. It wasn't the most comfortable prop, but he knew that to dance to "All Shook Up" he had to go all the way. "Up until now it hasn't been about gimmicks or razzle-dazzle [for me]," he says. But, "You give me an Elvis song and I get to shake my hips and bang my chest. Hello!" His Beverly Hills, 90210 costar Joe E. Tata (a.k.a. Peach Pit owner Nat), who was in the audience, says the look suited him. "I want to tell you, this is the Ian I know. When he got out there with his silly personality, he always used to make us laugh."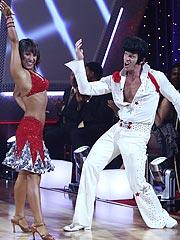 Dr. Quinn, Dancing Woman?
In the audience Monday night, actress Jane Seymour was in awe. "I was amazingly impressed by Laila. I thought she was fantastic. And Apolo blew me away. But Joey surprised the living daylights out of me. He looks like he's really having fun and he makes me want to dance," she says. Does that mean TV's former Dr. Quinn wants to make house calls from the dance floor next season? "Oh my. I don't know. Maybe."
Tongue-Tied Host
For the first time in four seasons, Tom Bergeron flubbed his lines. The host had trouble over and over again trying to pronounce the name of Tuesday night's musical guest performer (Enrique Iglesias) â€" and shook his head in shame. But he recovered nicely, saying over and over the correct pronunciation of the singer's name.

Laila: Well Trained (and On Time)
After getting two perfect scores for their quickstep and jive, Maksim Chmerkovskiy couldn't help but praise partner Laila Ali.
"She's like a locomotive. She's slow to start and I have to give her a little push, but once she gets going," Chmerkovskiy says, "She's a true athlete and competitor. This morning she came at 8, an entire hour before our call time so she could practice on the dance floor (at the soundstage). You can keep the trophy. I already have a winner here."
Matt Richenthal is the Editor in Chief of TV Fanatic. Follow him on Twitter and on Google+.