Find out how Skylab gym owner Jackie Warner and her trainers honor the memory of their friend and fellow trainer on the emotionally intense season finale episode of Bravo's Work Out, tonight at 10PM (ET/PT).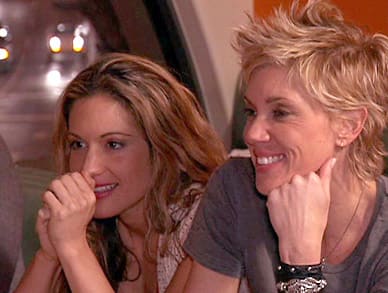 "He was something that entered my life that I never had and I probably will never find somebody like him again," trainer
Brian Peeler
, who takes Doug Blasdell's passing extremely hard. "I only hope I can be a third of the man that he was."
In the show's season finale, Warner and her trainers honor the memory of Doug Blasdell by organizing a bike ride to the beach.
"Doug's passion was bike riding," says Warner. "I'm really glad that we're doing this ride, really to rejoice his life which was so positive."
Later, it's back to business in the gym as Warner rallies her Skylab clients and reveals their end-results. While Skylab was a success for most, Warner is still forced to lecture one client, Kiki, who has not taken the program seriously.
"From the beginning, I've heard a lot of excuses…you have to switch gears," lectures a frustrated Warner to a defensive Kiki. "The priority is you and your health. You're young, you have youth on your side, but you're obese."
And it's more relationship drama for Warner as she's caught in a lover's triangle between herself, Rebecca Cardon and the "other woman" Tiffany. The situation stirs up some jealousy in Cardon.
"I don't compare myself to Tiffany, we're very different," says Cardon. "She has little rat teeth and she's got totally big gums, you never see her smile â€" and she shouldn't ever."
Finally, to thank her staff and Skylab clients, Warner throws a cocktail party at the gym, inviting everyone to come celebrate the success of their hard work.
Matt Richenthal is the Editor in Chief of TV Fanatic. Follow him on Twitter and on Google+.