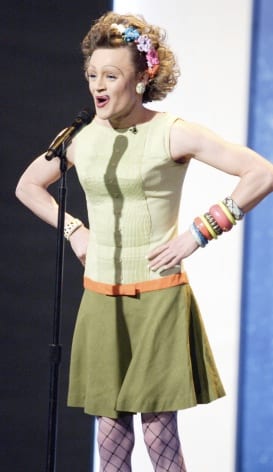 The debut of
America's Got Talent
last week did what no other network show could do: it beat HBO's finale of
The Sopranos
in the ratings.
NBC's reality competition was watched by 13 million viewers, while The Sopranos' surprising ending drew 11.9 million viewers, the AP reports.
That means it "was more popular last week than all but one show on the far larger world of broadcast television," even though "ABC, CBS and Fox are all available in 111 million homes for no extra charge, and nothing they aired last week did better than The Sopranos," the AP reported out.
Approximately 30 million homes have HBO.
In its second week, America's Got Talent 2 "drew 11.9 million, about 1 million fewer than the previous week," according to Media Life. But it "will be among the week's top draws in both 18-49s and total viewers."
And, hey, if Jerry Springer keeps going topless, who knows how high the numbers could soar?
Matt Richenthal is the Editor in Chief of TV Fanatic. Follow him on Twitter and on Google+.