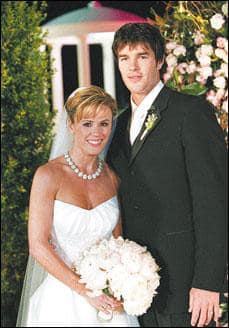 Their courtship was televised.
As well as their wedding planning, and the actual ceremony.
But if you were hoping you'd see Trista Sutter give birth to her first child with Ryan Sutter on camera, in an up-close, gruesome scene a la Katherine Heigl in Knocked Up, well... you have problems.
Although even that might be more fun to watch than a tape of Jennifer Toof naked.
No, fans of The Bachelorette's Trista and Ryan Sutter apparently won't be seeing the birth of the couple's first child later this summer.
"One hundred percent no!" Trista said in the new issue of OK! when asked if there would be a new reality show following the soon-to-be first-time parents.
"When it comes to cameras being in your life 24 hours a day, that's something we're in total agreement will never be happening again. That's how we met and we're appreciative of that, but that won't be happening. Sorry to the public if they're wanting to see any of the birth!"
It's okay. We'll always have Pageant Place.
Trista Sutter, a 34-year-old purse designer and former physical therapist, and Ryan, a 32-year-old fireman, met on The Bachelorette in 2002.
Trista Sutter was spurned on the previous season of The Bachelor, but producers loved her so much that they gave her a spin-off.
More than 30 million people watched as Trista Rehn chose Ryan Sutter as her man during ABC's February 2003 broadcast of The Bachelorette's first season.
Ten months later, ABC aired a three episode series that detailed the events leading up to their December 2003 wedding ceremony. Over 17 million viewers watched Trista and Ryan exchange vows on ABC's Trista & Ryan's Wedding.
In February 2007, Trista and Ryan - who's friends with reigning Bachelor Andy Baldwin - announced they were expecting their first child.
Matt Richenthal is the Editor in Chief of TV Fanatic. Follow him on Twitter and on Google+.