Rankin Inlet has been abuzz this week with sightings of a celebrity couple:Â  hometown hockey hero Jordin Tootoo and his girlfriend, American Idol finalist Kellie Pickler.
The NHL player has been dating the country singer since January, reports CBC News, and has brought her home to Nunavut to meet his family.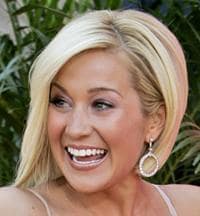 Pickler  says her time in the region has been a welcome break from her hectic schedule back home.
"[There's] no cellphone service here, so that's a big plus. No one probably knows what a cellphone is here, do they?" she joked in a CBC interview.
Pickler had never been to Canada before. She was earlier quoted as saying she was hoping to build an igloo on her visit - and our staff made fun of her for it. But even though that didn't pan out, the Tootoo family is making sure she goes home with her share of truly northern experiences, such as fishing and sampling local food.
"I've had different types of food that I never in my wildest dreams ever thought I'd try … raw caribou and whale blubber," she said on Wednesday. "You've got to salt everything."
Pickler said besides ketchup chips, which aren't available in the U.S., her favorite part of the trip has been the people.
"I've never felt so welcome anywhere like I have here. As soon as I got off the plane, everyone was waiting for me at the airport, just to welcome me to the community. Everyone's been so nice."
Matt Richenthal is the Editor in Chief of TV Fanatic. Follow him on Twitter and on Google+.