Ruben Studdard isn't the only one getting ready for a new album.
Constantine Maroulis, the sixth place finisher on the fourth season of American Idol, has been biding his time. The typical route for Idol finalists is to record and release an album as soon after the show as humanly possible, allowing them to ride the wave of fame that the show bestowed unto them.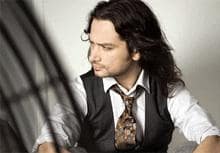 But this often leads to a rushed and mediocre release; Constantine had other ideas. Instead, the Brooklyn-born rocker of Greek descent has taken a couple of years to find his voice and craft an album of which he can truly be proud.
The album entitled "Constantine" will hit stores on August 7. The first single from the album, "Everybody Loves" is currently available for download on iTunes.
After finishing in sixth place on American Idol in 2005, Maroulis, known for his rocker sensibilities and brooding style, took some time to do side projects before recording his debut album.
In the summer of 2006, he joined the cast of the Broadway musical version of "The Wedding Singer," playing the role of Sammy. Earlier this year, Constantine joined the cast of the off-Broadway musical "Jacques Brel is Alive and Well and Living in Paris" for an exclusive six-week run.
On May 15, Constantine began his day time acting career when he signed a thirteen week contract to appear on the soap opera The Bold and the Beautiful, on which he plays Constantine Perros, a singer/rock star and record producer.
Matt Richenthal is the Editor in Chief of TV Fanatic. Follow him on Twitter and on Google+.