The 59 edition of the Insider's weekly Caption Contest was a good one. With Isaiah Washington on his way out the SGH door in real life, the captions submitted for the image below were bound to be clever.
We got a number of terrific ones this week. Richie, hornyelevatorsinSGH and Jason played off the recent off-set drama in a funny fashion, while no one can match LovingGrey'sAllTheTime in the metaphor department.
Other notable captions were sent in by Christine and ang-elaCAN'TWAIT! Nice work, all. We got good laughs out of this week's captions.
Our winner, though, is Julia. We like the juxtaposition of the real world and that of Grey's Anatomy, with a nice dose of good-natured humor.
The winning caption appears right beneath the picture. Congratulations to the winner, and to all for participating. Scroll down to read the full list of captions sent in by our visitors.
Thank you for making us the top Grey's Anatomy site on the web, and good luck again in this week's all-new edition of the Caption Contest.
This week's Caption Contest image: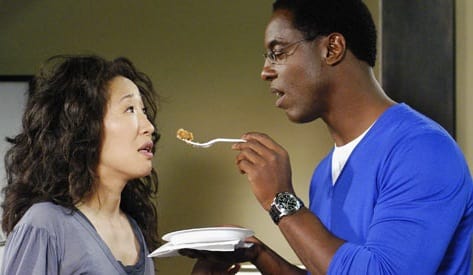 [Season Four, Episode One]
Burke: "C'mon, just take one bite. I'm sorry for leaving you, but I'm back now. Just eat this cake, I made it especially for you."
Cristina: *whispering* "You know you're not supposed to be here. You were fired. You know that, right?"
Steve Marsi is the Managing Editor of TV Fanatic. Follow him on Google+ or email him here.