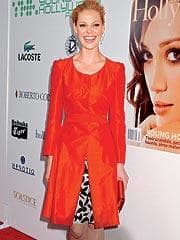 Before filming her new movie,
Knocked Up
, Katherine Heigl hated working out.
But since meeting Hollywood trainer Harley Pasternak, the actress raves, "I'm in the best shape I've ever been in."
Still, Heigl, one of People's 100 most beautiful in 2007, didn't get there without putting up a fight. She admits:
"I hate dieting. I hate the whole thing!"
A revealing love scene in Knocked Up gave her the motivation to hit the gym with L.A. trainer Pasternak, who is known for his intense, time-efficient workouts.
"Katherine Heigl had a beautiful body, but it had never been toned," Pasternak, who has worked with many celebrities, including Halle Berry, Jessica Simpson and Sheryl Crow, says.
The Grey's Anatomy star, 28, met with him for cardio and circuit-training sessions of 25 to 50 minutes, up to five times a week for six weeks prior to shooting the Judd Apatow comedy.
On-set, she'd jump rope or lift dumbbells outside her trailer during breaks in the action. All the while, she ate Pasternak's 5-Factor Diet, which requires five high-protein, high-fiber meals a day.
Even with a scheduled weekly "cheat day," says Pasternak, Katherine Heigl soon looked "tighter and more toned."
As for the former gym-hater, Katherine Heigl says now, a year after filming, she still works out regularly. "I used to have back pain. Suddenly, my body is supporting itself the way it's supposed to," she says.
"I wake up and I go, 'My god, I can't believe this is my body!'"
A typical Workout for Katherine Heigl:
5 minutes of jump-roping, jogging, or stair-climbing for a cardio warm-up.
A circuit of 4 sets each of the following:
25 dumbbell flies
25 lunges
25 low-body crunches
5-25 minutes of cardio running, elliptical training, stair-climbing or biking, with the last five minutes working as a cool-down period.
A sample of her daily meals:
Breakfast: French toast with ricotta pillows
Mid-morning snack: A mixed-berry shake
Lunch: TexMex salad with chicken and black beans
Afternoon snack: Hummus crudite
Dinner: Sea Bass with brown rice and edamame
Steve Marsi is the Managing Editor of TV Fanatic. Follow him on Google+ or email him here.