Jordin Sparks has a few reasons to celebrate this summer.
She's the newest champion of American Idol, on the path to being rich and famous, has a national tour lined up with her fellow finalists - and she got a hot new car!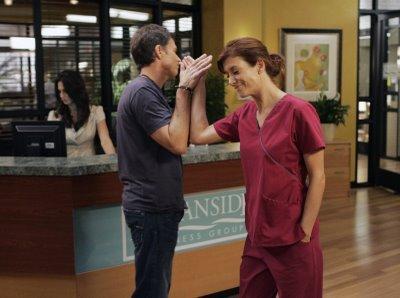 Not bad for 17.
Sparks chatted with Us Weekly about her newfound fame, what went on during her Idol "girls' night" tradition and more. Here are some excerpts:
Us: You have frequently said how when you turned 16, it wasn't the chance to drive a car that excited you, but rather the chance to audition for American Idol.
Jordin Sparks: It was. It's been really amazing because having watched the show for so long, I've just been like, 'I want to do that,' but I was too young. So I just watched the show and I saw what songs really got people going and what songs didn't. Being up on that stage was one of the most amazing things ever.
Us: Has the fact that you're the American Idol hit you yet?
Jordin Sparks: It hasn't really set in yet. It's been crazy. People keep saying, 'Hey, we're on the air with the new American Idol, Jordin Sparks' and I'm like, 'What!? Can you repeat that?' It's crazy, I've always wanted to do it and now that I have, I can't believe that I did. I couldn't ask for anything more. It's so much fun.
Us: Not only did you take American Idol's crown, but you were also gifted with a new Ford Mustang on the final results show.
Jordin Sparks: I woke up on my 16th birthday and I was more concerned about auditioning for American Idol than driving a car. I did get my driver's license eventually, but now I can drive and I am the American Idol and I have a new car! This is so weird. I haven't driven it yet. I know driving will be kind of scary, because the paparazzi will follow me. Crazy!
Us: Your father played in the NFL, so you must remember the media attention during his football fame. What advice did he offer about your own celebrity?
Jordin Sparks: Since my dad has been famous-ish and has gone through having paparazzi and stuff like that, he told me "It's fun, but at the same time you've got to be careful. People will try and use you. It's scary, it's hard, but if you just handle yourself well, and trust the people around you, you'll be fine.' So far, so good.
Us: On the show you were very close with Melinda Doolittle, who finished in third place. Since you two were roommates, what types of things did you discuss during your "girls' nights?"
Jordin Sparks: It stays in girls' night! We did talk about boys and stuff like that. [smiles] We talked about life in general and about each others' lives. We were living under the same roof for I don't know how many weeks. I asked her how she grew up and what advice she can give me, because she's so much more experienced than I am. I just love her so much – she's so amazing! So yeah, we talked about boys, the competition, and crazy fan things that happened.
[SIDE NOTE: Boys? Who here thinks they discussed their mutual adoration for Sanjaya Malakar? Yeah, we agree. Who doesn't love that goofball.]
Us: Did Blake Lewis happen to teach you how to beatbox?
Jordin Sparks: He tried really hard to teach me. He goes "Okay, do this [starts beatboxing].' And that's how I beatbox. That's all I can do.
Matt Richenthal is the Editor in Chief of TV Fanatic. Follow him on Twitter and on Google+.