Sanjaya Malakar was known throughout American Idol for his upbeat attitude and smile. But things may have changed a bit since he was voted off.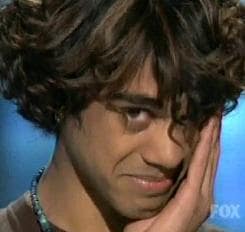 "At a certain point all the judges just gave up,"
said Malakar
in the June 20 issue of
Steppin' Out
, a weekly entertainment magazine published in the New York-New Jersey area. "[The judges] realized the fans are going to do whatever they're going to do, and they're always going to vote for whomever they want.
They didn't have the power to change the way the fans felt. In fact, if anything, the more [Idol judge Simon Cowell] was mean to me, the stronger the fan support got. That's why all the judges got frustrated and just gave up... I didn't take it personally because I was just thinking what I needed to do."
Malakar continued to voice his displeasure at some of the ways he was treated by the panel.
Of all the show's judges, the crazy-haired one said he thinks Cowell was the one who was "trying to get a certain reaction out of the fans" through his criticisms. However, Malakar added he actually has "respect" for the sharp-tongued Brit due to his "unbiased honesty."
"I actually kind of like Simon. He was really mean to me - but he's also really honest - and I was searching for that," Malakar said. "Not a lot of people are like that anymore. Especially in this business. He doesn't say things the way you might want to hear them. He says what he feels with every speck of sugar off of it. It's complete raw and brutal honesty. I really think that's important to hear. You need at least one person telling you that stuff so you can learn from it."
We agree.
Meanwhile, Malakar added he wishes radio shock-jock Howard Stern would stop taking credit for his popularity on Idol, and would instead like to recognize those who really did help him make it as far as he did in the competition.
"I have to give all the credit for my success to my fans," he said. "They are the people who brought me back to the show each week. They are the people who truly supported me wholeheartedly... They're really the important people who make a difference in an entertainer's career. They're the people who actually make you who you are. They're the people who buy records and vote for you on American Idol."
Matt Richenthal is the Editor in Chief of TV Fanatic. Follow him on Twitter and on Google+.