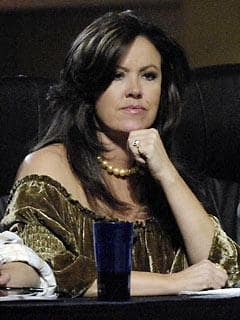 As Vegas Week kicked off last night on
So You Think You Can Dance
, it was with more than a little bit of disappointment, as it seemed more was absent than present on this might.
Where the heck were Brandon Norris, Benji Schwimmer's sister Lacey Schwimmer, Ashley Simpson or Phillip Chbeeb? Once again, the editing of the show left a lot to be desired.
For some reason, Olivia Usey was the main focal point, and was built up to fail all night, only to sail through. Why? That's unbeknownst to the Scoop, as it was barely shown.
Yet it was redeemed down the stretch in a big way with Twitch, D'Trix, and Hok, among others, who wowed the judges with routines of put-it-all-out-there, dancing-for-your-life dexterity.
Even Mary Murphy (pictured) was impressed.
Follow this link for our official recap of the first Las Vegas week episode on So You Think You Can Dance ...
Matt Richenthal is the Editor in Chief of TV Fanatic. Follow him on Twitter and on Google+.