Entertainment Weekly recently caught up with Elliott Yamin. Let's see what the former American Idol finalist had to say...
ENTERTAINMENT WEEKLY: We'll have to start with the teeth, because they look great!
ELLIOTT YAMIN: And now it feels great! [The process] was excruciating. I was wrecked from the neck up. It hurt to talk. I'd had a couple cavities filled and my wisdom teeth pulled, but that's it. I would never even go to cleanings. So that was tough. I didn't think the pain was ever going to go away.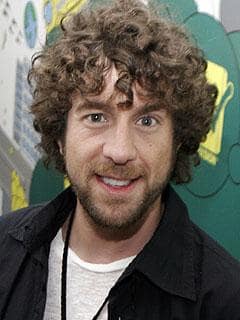 Did that make you insecure?
Yeah, a little bit. I always had a complex about my smile. I would have to smile a certain way, knowing it looked better than the other way, when my teeth were exposed. I never thought I'd have the whole mouth done, but they offered to do it for free! That was definitely the Jew in me.
You're part Israeli, aren't you?
My dad's Israeli. He was born in Baghdad to Iraqi Jews. Then, at age two, his parents wanted to move to their homeland and he grew up in Israel. I've been there twice, once as a baby and once when I was 15.

Did you have a Bar Mitzvah?
No, I didn't. I was a bad kid. I got kicked out of Hebrew school for making fun of [my teacher]. She was pretty strict with us and her husband was the rabbi. We used to clash.

And you dropped out of high school, too?
Yeah. I was never really good in the classroom setting. But I got my ''Good Enough Degree.'' [Chuckles]
Do you think being deaf in one ear had anything to do with it?
No. I hear okay. It's never been that big of an issue other than in crowds, or on headphones.
What about on the Idol stage when the judges are talking to you?
On the stage, you can't see, but the sound up there is good. They have tons of monitors that protrude through the floor. Sitting on the side of the stage, though, I could never hear a word Ryan or any of the judges were saying.
You watched Idol before your audition, and now you've seen another round of contestants. Was your season the best?
I think it was the best so far, and I'm not being biased. That seems to be the general consensus from everybody; this year wasn't as good as last year. It's cool to be a part of that alumni.

Your single is a Top 40 hit. Do you think performing it on Idol gave it a big boost?
It was on the rise, but yeah, it wouldn't be where it is today if not for performing on that show. One-hundred percent. Thirty million people saw it! There was an 87 percent increase from one week to the next. I was really pumped.
Why didn't you sign with 19 for management?
I felt they weren't going to pick me up on the management side or the record company side, so I called Simon Fuller personally and I said, ''I appreciate everything you've done. I've gotten amazing opportunities.'' I thanked him and told him what a great time I had on the show, then I said, ''I'd like to cede the deal with 19 Entertainment.'' And he said, ''That's cool, just don't put out a record before [Katharine McPhee], Taylor, or Chris.'' I was, like, ''No problem, I'll take my time.'' That was that. I wasn't like, ''That's f----d up, why didn't they pick me?'' I was more relieved. They were trying to manage a lot of people at one time and they didn't indicate that in the future, away from Idol, they'd give me 100 percent of the attention that I need. It wasn't the right fit.
What were your expectations for the album?
I wasn't too sure. I had preconceived notions, probably like the public did. You know, what's he going to sound like? Are people going to buy it? Not literally, but like buy it. I wanted it to be good, quality music — a singer's record, because I'm a vocalist — and something I could be happy with and grow from. I think I did that.
And the album is an independent release, so you stand to make more of a profit...
Yes. But there are so many ways to make money in this business: Touring, endorsement deals, I'm doing something with Oscar Mayer, I'm doing a Christmas album with Target.... There are all kinds of opportunities coming my way that have nothing to do with singing but are other sources of income.
Still, it must feel good to have an album that's selling so well.
It feels amazing. We worked tirelessly and it's really paying off. Pounding the radio, going to three or four stations a day, sometimes in two different states, for five weeks straight. We played every chance we got, it was almost like a country-music radio tour; meeting the fans and the listeners. But people really like the song, they like me, they like the record!
Have you come to terms with the fact that you'll likely be talking about American Idol for the rest of your life?
I've accepted it. I know I'll be forever synonymous with those two words. But so what? I knew what I was getting myself into. I didn't know the magnitude of how big it was, but I'll talk about it until I'm blue in the face. So many doors have opened because of it. Now, I get to do what I love every day.
Matt Richenthal is the Editor in Chief of TV Fanatic. Follow him on Twitter and on Google+.