After "Dark Season," Shonda Rhimes Vows to Take Grey's Anatomy Forward
Steve Marsi at . Comments
Grey's Anatomy creator Shonda Rhimes said she is confident fans will put last year's unsettling season in perspective and remain loyal to the ABC drama.
"It's a thing that happens in any show," she said. "People love you, then there has to be a moment ... in which people disagree with where you're going creatively. But if you're telling your stories well they'll stick with you, hopefully, and watch us grow and change."
The series will get back to having fun next season, Rhimes promised in an interview with the Associated Press Thursday.
Shonda Rhimes acknowledged that story lines including death and infidelity represented a "darker journey," one that provoked some critics and fans.
The series was also hit by the real-life drama involving Isaiah Washington, who was ultimately not re-signed to the show after Season 3.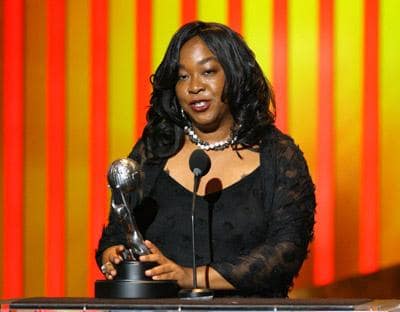 Shonda Rhimes said the show rose above that crisis.
"It was a difficult season for [Grey's Anatomy] behind the scenes. But, creatively, we moved in the direction we planned to move," Rhimes told a meeting of the Television Critics Association.
Isaiah Washington moved on quickly, hired by NBC to appear in five episodes of NBC's new fall drama, Bionic Woman. Last week, NBC exec Ben Silverman said he had spoke to Isaiah about coming to the network even before the actor was released by ABC in June.
Rhimes, who had called Washington with the network's decision, was asked if she was aware he had talked to NBC and what her reaction was to his hiring.
"No, I wasn't aware of any conversation that may have happened before I had a conversation with him," she said. "I guess I don't have a reaction. He's a very talented actor. I hope he does really well with Bionic Woman. I hope that show does well."
"Not as well as Private Practice," she added, a reference to the Grey's Anatomy spin-off debuting this fall. The series stars Kate Walsh as her Grey's Anatomy character, Dr. Addison Montgomery Shepherd, and co-stars include Amy Brenneman, Tim Daly and Taye Diggs.
Steve Marsi is the Managing Editor of TV Fanatic. Follow him on Google+ or email him here.