While it may seem as though Chandra Wilson came out of nowhere to become an overnight success, she had actually been chugging along in the industry for almost 20 years before she hit it big on Grey's Anatomy.
From her humble beginnings as a bit player on sitcoms and films to her brief stint as a bank employee, the unabashed soap opera buff has paid her dues. Now she's leading a stellar Grey's Anatomy cast.
Chandra is the AskMen.com featured actress of the week, and we're happy to pass along their feature on her. After all, as talented as she is, Chandra is still a relative unknown to some.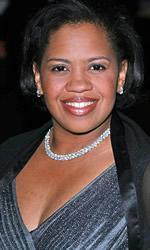 Why do we love her?
Chandra Wilson has deftly managed to take her abrasive
Grey's Anatomy
character, Dr. Miranda Bailey, and transform her into a compelling, sympathetic figure that viewers can't help but root for (a feat that's even more impressive when one remembers that Bailey was dubbed "The Nazi" by her underlings).
Why is she famous?
Aside her career-making role on Grey's Anatomy, Chandra Wilson has popped up in films such as 1993's Philadelphia and 2003's Head of State, and she has also made appearances on several well-known television shows, including Third Watch, Law & Order and Sex and the City.
She said it
"They told me I could come back if acting doesn't work out. I told them, 'Keep my seat warm.'"
- Chandra on returning to her bank job
"Basically, what folks have is a deep appreciation for what they're able to see on television. And I understand, from the outside looking in, how big that is. How big it is to see me playing Dr. Miranda Bailey."
- Chandra on her character
Background
Chandra Danette Wilson was born on August 27, 1969, in Houston, Texas. Chandra was bitten by the acting bug early in life, and at the age of five, she made her debut in a series of musicals at the prestigious Theatre Under the Stars. Chandra's passion for performance made her an ideal fit at Houston's High School for the Performing and Visual Arts, where she honed her acting abilities and appeared in a number of school productions. Following high school, Chandra enrolled in NYU's Tisch School of the Arts - which boasts such famous faces as Kristen Bell, Selma Blair and Anne Hathaway among other alumni - and eventually graduated with a BFA in drama.
Steve Marsi is the Managing Editor of TV Fanatic. Follow him on Google+ or email him here.