If he were a race horse, Chris Daughtry would have finished out of the money in 2006.
While he may have failed to win in season five's American Idol competition, 2007 has been a year of vindication for the 27-year-old North Carolinian. His debut album "Daughtry" opened at No. 1on the Billboard 200, is currently double platinum and still riding high in the top 10 after 27 weeks in stores. By way of comparison, "Daughtry" is No. 6 on Billboard, while the 2006 Idol winner Taylor Hicks' self-titled debut isn't even in the top 200 any longer.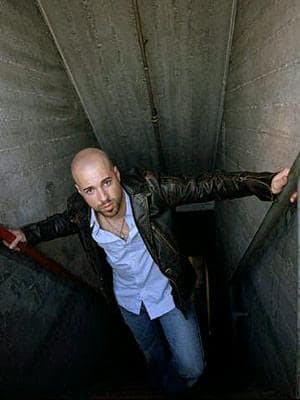 Moreover, when Hicks came to Milwaukee, he played the 2,500-seat Riverside Theater. On Friday,
The Milwaukee Journel-Sentinel
reports that
Daughtry will headline
Summerfest in the 23,000-seat Marcus Amphitheater.
Through most of the American Idol competition, Daughtry was clearly the judge's favorite, and he appeared stunned when he was voted off the show, finishing behind Hicks, Katharine McPhee and Elliott Yamin. At the time, he speculated his fans might have been so confident of his success that they failed to vote.
Obviously, the momentum he has built since then has erased most of the sting of that setback.
"I've been pretty lucky," he said recently by phone. "I don't feel I've had any painful moments in music. If getting voted off American Idol is the worst thing that happens to me, I'll be very lucky."
One measure of his popularity came when the established rock band Fuel, invited him to take over as their lead singer. Daughtry had won raves for his performance of "Hemorrhage (In My Hands)," and two days later the band extended its invitation to Daughtry to step in for the departed Brett Scallions.
Although flattered, Daughtry declined because "I didn't want to be a replacement for someone else."
One of the oddities of American Idol is that you can become famous very fast and be seen by millions of people but still be largely unknown as a musician because you're performing cover tunes often from before you were even born.
Daughtry was asked whether it was important to write the songs on his debut to establish his own voice as a musician.
"Well, to be honest," he said, "I don't think they care about you as a musician on American Idol. That's not what that's about."
Although ratings remained very high, American Idol came under increasing fire this year for an alleged nasty streak. Rosie O'Donnell took the show to task for its alleged cruelty and racism. Judge Simon Cowell was criticized for comparing one early contestant to a bush baby. Later, near the end of a "trick show" show on which no one was voted off because it was a charity-event episode, eventual winner Jordin Sparks was reduced to tears when it appeared she was leaving the show.
Although Daughtry has been too busy to see much of the 2007 season, he shrugs off the criticism, saying, "If you're on American Idol, you know what the show's like."
Matt Richenthal is the Editor in Chief of TV Fanatic. Follow him on Twitter and on Google+.