Addison Sewell's friends jokingly call her "the future Mrs. McDreamy."
This past weekend, the teenage Addison got to meet the real McDreamy - or at least the actor who plays him on Grey's Anatomy.
Patrick Dempsey - who stars as the hunky Dr. Derek Shepherd, or "McDreamy," as he is more affectionately known to many female fans - took a half-hour out of his Saturday afternoon to visit Addison at Birmingham's Children's Hospital, where she has been undergoing treatments for leukemia.
"How's it going?" Patrick Dempsey said as he entered Addison's room bearing a plastic bag filled with t-shirts, a handbag and other souvenirs from the Barber Motorsports Park, where the actor raced in Sunday's KONI Challenge Series GS event.
"Can I sit on your bed, is that all right?" Dempsey then asked a giggling and nearly speechless Addison, who fittingly happens to have the same name as Patrick's one-time on-screen wife (played by Kate Walsh).
"You're talkative, aren't you," he later teased.
In April, three days after her 14th birthday, Addison - or "Addie," as friends and family call her - was diagnosed with acute myelogenous leukemia, a fast-growing cancer of the blood and bone marrow.
Dempsey's visit came about with the help of Randy Stephens, Addison's track coach at Mountain Brook Junior High School, and "team mom" Julia Holt, who stayed after the staff at Zoom Motorsports.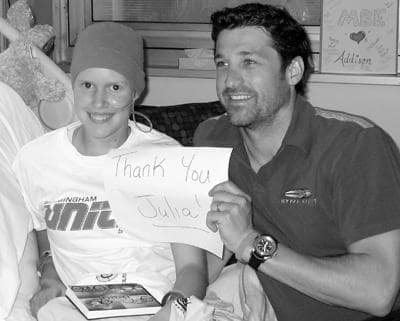 Once Patrick Dempsey found out about Addison and how much she loved Grey's Anatomy, he took the time to see her in spite of all of his other racing-related events.
"He could have easily said, 'I don't have time,' and we wouldn't have thought any less of him," Stephens said. "I don't think there's anything bigger that he could have done for anyone other than what he did for Addison."
Addison has to undergo six months of chemotherapy treatments, and she recently had to go back to Children's Hospital because of a bacterial infection brought on by her low white-blood count.
"[Patrick Dempsey] coming made a huge difference for her as far as getting ready to get better and take on this next treatment," Stephanie Sewell, Addison's mother, said. "It really did inspire her to try to do everything she can to get better."
Addison gave Dempsey an orange plastic wristband that all of her friends wear to show their support for her. It's embossed with her name and the message, "Stay Strong."
Dempsey will wear it on the second episode of Season Four of Grey's Anatomy, and invited her to come visit the set of the show when she gets better.
He also autographed a "McDreamy is watching over you" poster that a friend made for her. Addison puts it on the wall above her bed every time she has to go back to the hospital. It features a People magazine cover of Dempsey holding his twin baby boys, Darby and Sullivan.
Hanna Nall, Addison's best friend and a teammate on the Birmingham United 93 Angels girls soccer team, was there to get a photo taken with Dempsey, too.
Addison can't wait to tell the rest of her friends about her McDreamy visitor.
"I told a lot of them, but some of them are at camp," she said Monday. "I wrote them, but I don't know if they've gotten it yet."
Addison's father, Hill Sewell, posted pictures of Dempsey's visit on her CaringBridge Web site, where family and friends can go for updates on her condition and to send her messages.
Although Addison was a big Grey's Anatomy fan before, she's an even bigger one now.
"I just like all of the drama and stuff in the show and the music and everything - and him," she said.
And what does she like most about McDreamy?
"His looks, I guess."
Steve Marsi is the Managing Editor of TV Fanatic. Follow him on Google+ or email him here.