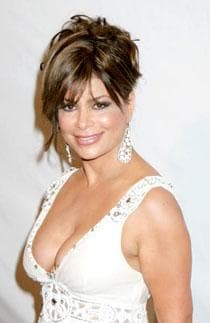 A new reality show (
Hey Paula
) and a new man (
JT Torregiani)
aren't enough for Paula Abdul.
The American Idol judge will release her first perfume in the upcoming months. It's name? Sexy Thoughts.
"It's fun, it's flirty, it's chic," said Abdul. "It's sexy... It totally captures the spirit of who I am."
The singer, never one to be shy, also admitted she agreed to launch the perfume after spraying it on herself and asking those around her, who eventually gave the scent a positive review.
On starting the business and launching the fragrance, Abdul joked that she was looking for the right smell for Idol partner Simon Cowell.
"In the middle of coming up with my fragrance line, I asked the question, 'By any chance do you have anything that smells like cat pee, and cow poop and, like, farts?' I want to put those elements in a bottle, and call it Ode to Simonella. I 'm going to put it together and I'm going to surprise him next season, and douse it all over the chair."
Matt Richenthal is the Editor in Chief of TV Fanatic. Follow him on Twitter and on Google+.