She was the fourth to be eliminated from NBC's new dating reality series, Age of Love, but Adelaide Dawson is not complaining.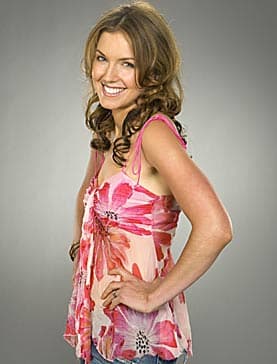 Not only does she claim she wasn't playing to win, she also says that the show's eligible bachelor,
Mark Philippoussis
, is not exactly her ideal guy.
"I didn't see it as a competition," Dawson told the Herald Sun and Buddy TV reported.  "I thought I would have a go because, you never know, I might like this person, but he wasn't my type."
Age of Love differs from other dating shows for its unique format.  The participating women have been divided into two groups according to age.  The forty-year-old women have been deemed the "cougars," while the twenty-year-old women have been deemed the "kittens."
Dawson, 26, automatically fell under the second group.
"I have never been called a kitten before this," Dawson said.  "But I would prefer to be a kitten than a cougar.  Cougar is derogatory.  To me, it means old women on the prowl at bars."
Age of Love began with 13 women, all seemingly ready to do whatever it takes to win Mark Philippoussis heart.  However, Dawson said that while she was in the game, she did not feel any rivalry with the other women.
"I didn't see it as a competition, but after watching the show and listening to what the older women said about us, I can see they were really competitive."
Clearly, Dawson is not attracted to the man whom she describes as a self-centered, "pretty vain and arrogant" person, so she'll be relieved to know that the feeling is mutual.
"A kiss can tell you a lot about a person and I didn't feel like she gave anything," Philippoussis said.
Matt Richenthal is the Editor in Chief of TV Fanatic. Follow him on Twitter and on Google+.