Heroes star Ali Larter won't reveal the identity of her boyfriend, but it sounds like he may be her knight in shining armor.
"I'm madly in love," the actress and model tells InStyle Makeover's fall issue and People magazine reports. "He just brought light to my life. I feel lucky every morning when I wake up and see him."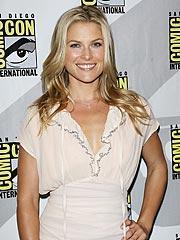 Hopefully, the mystery man likes children. Why? Because the portrayer of Niki Sanders would like some in the future.
"I'm loving this right now," she says of acting. "But I can't wait for that."
Larter spent many years modeling before she caught the acting bug. But growing up, she was hardly the most beautiful girl on the block.
"I had a bowl haircut," she says. "My face was always flushed, and I had one big tooth. I was the sweaty dirty girl, and I'd come home with one sock up, one sock down."
Now that she's found success, Larter says, she and her boyfriend are doing a good job staying balanced, knowing when to turn things up and when to chill out. It's something Hayden Panettiere and Stephen Colletti are still learning about.
"Last night I was in my skintight Brian Reyes dress and Louis Vuitton heels. ...Today I packed my weekend bag – cargos, sneakers and sweats," she says. "And you know what? I need both. Balance is something that we all strive for, but for me it's to make sure my life has enough downtime, plus a bit of play."
Matt Richenthal is the Editor in Chief of TV Fanatic. Follow him on Twitter and on Google+.