Here are a few news and notes from recent happenings on the set of All MY Children...
After filming a race through New York City streets, both Cameron Mathison (pictured, Ryan) and Thorsten Kaye (Zach) were exhausted... and more than a little sore. Mathison said neither of the actors were in the kind of shape required for such sprints.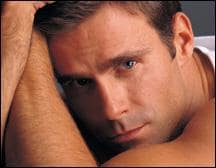 In other news:
Alec Musser
(Del), girlfriend Celia Kelly, and their friends look forward every July 4 to the annual Del Mar, California Thoroughbred Racetrack party, a splashy, two-month affair.
The group hangs out in the paddock in their summer finery, while spending entire days at the beach surfing, playing volleyball, barbecuing, rafting, food fighting, drinking and watching fireworks. Said Musser of the fun:
"The festivities begin and it is full throttle from that point on."
In other beach happenings, Brent Weber (Sean) was enjoying a day with his pals in L.A., when they spotted a guy manhandling his two golden retrievers. He was yanking them around and generally abusing them whenever they tried to get some loving from friendly strangers. Weber stood up for the crying puppies and laid into this moron:
"I almost got into a fight with him," the actor told Soap Opera Digest.
Lastly, a few All My Children stars have put together a garage band. They include: Jenna DiMartini (Corrina), Chris Henry (Ren) and on contract, Sterling Sulieman (Dre).
Matt Richenthal is the Editor in Chief of TV Fanatic. Follow him on Twitter and on Google+.