Congratulations are in order for Amanda Salinas and Mark Philippoussis.
The 31-year-old Australian professional tennis player chose Salinas, a 25-year-old financial planner's assistant from Nashville, TN, as the first-ever Age of Love winner during last night's finale broadcast of the NBC reality dating series.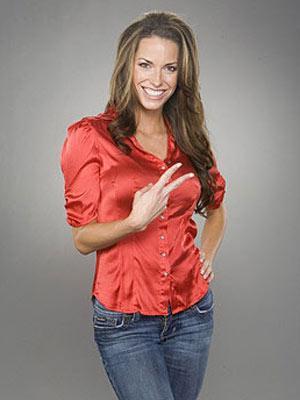 Amanda Salinas has conquered all others on Age of Love.
Mark's choice of Amanda --the only remaining 20-something "Kitten" - meant Jennifer Braff, a 48-year-old Carson, CA-resident who has a son the same age as Salinas, was the seventh and final 40-something "Cougar" to leave the competition.
She wasn't happy about the diss.
"Until going into this experience, I thought about shows like this, and the emotions that the women and the guys develop for each other," said Jen. "I thought to myself it couldn't possibly be real. But I'm sitting here... and I know now for myself that my emotions are real.
This is real for me, and it makes me sad. I know that we had a connection. I know we had a very strong chemistry. But he got scared. I know that if I had been younger Mark would have chosen me. It hurts. It hurts a lot."
We feel bad for her - but happy for the new reality TV couple!
Matt Richenthal is the Editor in Chief of TV Fanatic. Follow him on Twitter and on Google+.