The following interview with Zachary Quinto took place a few weeks ago. It was held at the after-party for the Web series "It's a Mall World," directed by co-star Milo Ventimiglia...
It seems like the entire cast hangs out when you're not shooting and you're all friends outside out work. That's very cool considering it isn't always like that.
Zachary Quinto: It's very true, yeah. Yes definitely. The cast is incredibly supportive and incredibly connected and really drawn to one another outside of work as well. I think it's part of the reason the show is so successful and people sense that in the work that we do as well.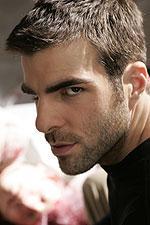 Why do you think that is?
You can never sort of predict in that dynamic of a group of people when they're brought together. Tim Kring set out to create a specific kind of world and themes of that world are themes of unity and hope. I think the people that fell into place and fell into the step of those themes are the kinds of people who enjoy hanging out with one another. I think also everybody on the show is grateful to be a part of it and being a part of each other lives. We enjoy each other at work and enjoy each other when we're not at work.
You're friends with Kristen Bell, right?
I am.
Did you have anything to do with [her joining the show]?
I'd certainly like to think so. That was a joke by the way. I think that Kristen has a real following obviously in this world and then in television in general so I'm sure that she was somebody that they've talked about along the way. We were at Comic-Con at the same time this year and we came back on the train with a couple of the writers and they ended up talking about this new character that they were going to have on the show. She was sort of talking to them and she forged her own relationship with them and I think that also had something to do with it.
Will you two get to work together at all?
I'm not sure. I don't know what their plans are in terms of our characters' trajectories. I think it's possible down the line, but you know I'm only going to be around so long on the show before I have to leave to do the movie. I'll be taking some time off.
How is shooting the movie going to work out with your schedule?
They're in the process of figuring that out now. I'm not exactly sure. I think the movie starts shooting in November, by then we'll probably be around episode 13 so I'll be available and present and on a lot of the episodes before then. Then we'll see what happens. I don't know what their overall plan is.
Did you audition for the role and have to campaign to get Spock?
I do think I campaigned for it. I definitely put it out there that I'd be interested for it. I think there was a progression that made sense to the people that are making the movie in terms of exposure and my experience of the show and the nature of the show and the sort of crossover fan base. I went in and put myself on tape for the casting directors back in April.
Then, I left the country a couple of days after that for a while to travel during the summer. Immediately when I got back, like two days later they had set up a meeting. J.J. had called to set up a meeting. Two days later, there was a lot of negotiating and figuring out schedules. June 7th I think is when the offer came in and then July 26th or 27th is when we announced it at Comic-Con.
What kind of feedback did you get at Comic-Con when the announcement was made?
It was unanimously favorable. People were very supportive and enthusiastic and very excited. Obviously a lot of people had a lot to say about it. It was really enjoyable. It was a lot less subdued than what I was led to believe. It was very, very controlled. My biggest fear about going down to Comic-Con was that it would be out of control. It it really wasn't and they handled it very well.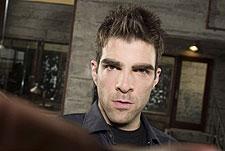 Have you had a chance to spend any time with Leonard Nimoy talking about Spock?
I have spent time with Leonard and I look forward to spending much more with him. We've hung out a few times in conjunction with the announcement, we did an interview together and spent some time personally one-on-one. That's the time I'm most interested in cultivating with him is really just getting to know him and learning about his life, not just about this character and his perspective on the character although it will be a significant part of the work we do together.
But just knowing him as a man, knowing him as an artist. I have a profound respect for the journey that he's taken and for the way he's redefined his creative expression over the years. So I look forward to being a part of that and being exposed to that. I think it will be a really gratifying part of this experience.
Has he given you any advice?
He's given me some advice, sure. I think that's part of the dynamic of the relationship and the work that we do together. This is obviously an experience that's going to be life altering for me. He's already been through it and I think he has a perspective that I can learn a great deal from. I feel most grateful that he's willing to share that perspective with me.
To read the full interview with Quinto, follow our link.
Matt Richenthal is the Editor in Chief of TV Fanatic. Follow him on Twitter and on Google+.