Season two of Heroes is less than a month away - but that's far too long for serious fans of the show.
If you need a sampling of one of this year's main story lines, a new five-part NBC Web series should do the trick: It's called Sword Saint and it's s currently streaming online at YamagatoFellowship.org.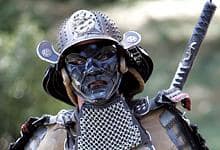 "It's a
fake documentary
— actually it's more like a Ken Burns mockumentary — that explores the legend of Takezo Kensei," says Heroes creator Tim Kring, referring to the iconic samurai whom Hiro (Masi Oka) will encounter this fall in 17th-century Japan.
"Like Burns, we use academic professors, only ours are actors, and they share their historical insight against a background of paintings, tapestries and graphics. It's a chance to dig a little deeper into the new season. Part of the social currency our fans trade on is their knowledge of the show, and this is a fun, cool way to know a lot more than the next guy."
It's pretty darn cool.
The series unfolds in three- to four-minute installments. It follows the super-swordsman as he takes on a number of Herculean labors - battling snake women, climbing a massive frozen waterfall, single-handedly defeating 90 cannibals - in order to find and slay White Beard, a Genghis Khan-wannabe who is trying to conquer Japan.
The site describes Kensei's life in a series of bullet points, as well. For instance:
He's a wild savage turned master swordsman whose heroics helped unify Japan.
Takezo found a sword frozen in the snow that helped him focus all his strength and courage. Some say this sword, and Takezo's power, were a Godsend.
When Heroes on September 24, Kensei will be played by former Alias star David Anders, a Caucasian. But this is not some politically incorrect casting mess.
"I promise you'll get the scoop behind this in the season premiere," says Kring. "We're going to reveal why — contrary to legend — Kensei is not Japanese."
Matt Richenthal is the Editor in Chief of TV Fanatic. Follow him on Twitter and on Google+.