Perhaps more than any other show on TV, Heroes does a tremendous job of selling itself.
Therefore, it comes as no shock that - fresh off a popular panel discussion at Comic-Con - two main influences behind Heroes sat in on a conference call with journalists this morning.
Masi Oka and Tim Kring talked about the second season, while also revealing intriguing details about the initial few episodes.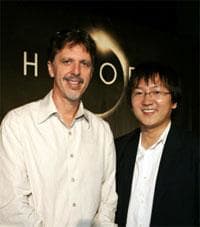 One interesting detail revealed right away was that Masi's character, Hiro Nakamura, did NOT exist in the original script for the
Heroes
pilot. When Kring looked at the bulk of dark and conflicted characters, though, he felt the show needed someone who really wanted to be a hero.
The creator also indicated there will be more fan-friendly casting in season two, similar to the choice to use George Takei as Hiro's father. Kring didn't wanna give away too many Heroes spoilers, but promised that the next special actor's appearance would evoke a similar response.
The stars were then asked about their real-life heroes. Oka talked about his mother who raised him as a single parents and brought him to America; for Kring, it's the people who work mostly anonymously in small charity organizations, as opposed to those that seek celebrity through their efforts.
When reported brought up the chance that Heroes would win the Best Drama prize at the Emmys, Kring made it clear that The Sopranos will be difficult to beat. And he's right. There's no chance any other program wins that trophy this year.
Oka, who is nominated for Best Supporting Actor, was quite humble in discussing his odds, focusing instead on the validation that comes with just being nominated.
On the brand expansion side of things, Kring detailed a new project waiting in the wings that will be a hard-covered graphic novel that collects the online comics that covered events between episodes. Sounds great to us.
Remember: The Heroes season 1 DVD comes out August 28; and the second season premieres Monday, September 24.
Matt Richenthal is the Editor in Chief of TV Fanatic. Follow him on Twitter and on Google+.